Prof. Sandy Publishes "Containment Theory"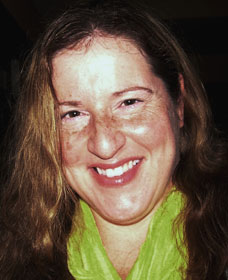 Associate Professor of English Kirsti Sandy's nonfiction essay, "Containment Theory" is featured in the Nov. 28 issue of Freshly Hatched, the online journal of Freerange Nonfiction, a New York City reading series and storytelling collective.
The series is a New York Magazine "Critic's Pick" and has been praised by Electric Literature as "The best nonfiction reading series." Prof. Sandy, presently the interim coordinator of ITW (Thinking and Writing), has published several articles, and has co-authored with Professor Phyllis Benay Think, Write, Learn: A User's Guide to Sustained Writing Projects.
"I teach memoir and creative nonfiction courses and what my students have been able to do with their writing has inspired me to write more of my own nonfiction. So basically, I'm making the shift from academic writer to creative writer," Prof. Sandy explained. "'Containment Theory' is part of a book I am working on called My Life in Semesters: Life and Learning in the Last Days of the Twentieth Century, a memoir about my experiences attending eight different schools between kindergarten and college. I really appreciate how Keene State encourages faculty to expand our scholarly interests and take new paths."
Related Stories