A Traditional Mohawk's View of Reality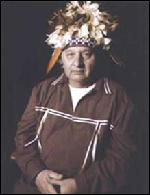 On Dec. 1 at 4 p.m. in the Thorne Conference Room, Tom Porter, a spiritual leader of the Mohawk nation, will speak about traditional culture and the Mohawk view of reality, which is often quite different from the Western view. Mr. Porter will also take part in the panel discussion, "Figuratively Speaking: Images, Identity, Art, and Diversity" later that evening at 7 p.m. in the Mabel Brown Room.
Originally from the Akwesasne community that straddles the borders of New York, Ontario, and Quebec, Tom (Sakokwenionkwas-"The One Who Wins") founded the Mohawk community of Kanatsiohareke (pronounced "Ga na jo ha lay gay") in the Mohawk Valley west of Albany, NY, in 1993 as a "Carlisle Indian School in reverse"-a place to re-establish and strengthen endangered Iroquois culture away from the strong negative influences on the reservation. A member of the Bear Clan, Tom is an inspiring speaker who has dedicated his life to upholding the customs and language of his people. His book, And Grandma Said … Iroquois Teachings, is a collection of memories and stories passed down through the generations. His book, Our Ways, is a study of Iroquoian clan systems.
In the 1960s, he organized the White Roots of Peace, a group of Iroquois elders who toured the country sharing traditional teachings and encouraging Indians to embrace their respective native traditions. He has spoken to audiences throughout North America and abroad and has received several awards for his dedicated work, including an honorary Doctor of Law degree from Trent University in Ontario for his contributions as an indigenous cultural educator, elder, and spiritual leader and the Rothko Chapel Award for commitment to truth and freedom.
Related Stories