Jonathan Schwartz's Films Premiere at TIFF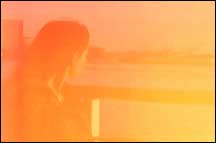 Assistant Professor in Film, Jonathan Schwartz's new short film, A Preface to Red, will premiere in September at the Toronto International Film Festival in a group show entitled Wavelengths 3: Serial Rhythms.
"A life-affirming freneticism courses through Jonathan Schwartz's A Preface to Red. Shot along the Bosphorus, its frenetic dense, field-recorded soundtrack colludes with the beauty of the images to overwhelm," noted TIFF programmer Andrea Picard.
This film, as well as another short entitled Between Gold, was constructed with images and sounds collected during time Prof. Schwartz spent in Istanbul (supported through a KSC Faculty Development grant).
Both short films will also be exhibited at the New York Film Festival Views from the Avant-Garde at Lincoln Center in October.
Related Stories