Men's Soccer Heads for NCAA Tournament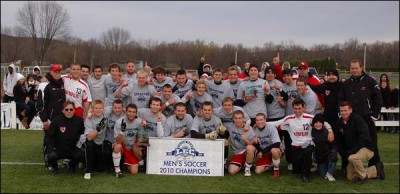 The Keene State College men's soccer team is headed to New Jersey for its opening-round NCAA tournament game. Making their first trip to the NCAA tournament since 2007, the Owls (14-4-2) will play Muhlenberg College (11-2-6) from Allentown, Pa., in the opening-round game at Steven Institute of Technology in Hoboken, N.J. on Saturday, Nov.13 at 1:30 p.m. If Keene State can post a victory its opening game, the Owls will face the winner of the game between Stevens Institute and Hunter (N.Y.) College on Sunday at 1 p.m.
Keene State, which defeated Rhode Island College 1-0 in the Little East championship game on Sunday, will be making its 10th trip to the NCAA tournament. The Owls won first-round games in 1999, 2005, 2006, and 2007.
Muhlenberg earned an at-large berth to the tournament after losing in the Centennial Conference finals to Swarthmore in double overtime, 2-1. Over the years, the Mules have earned 13 NCAA bids, including a trip to the semifinals in 1995. Since taking over the Muhlenberg program in 2002, head coach Sean Topping has led the Mules to three NCAA appearances (2003, 2005, and 2007).
Forced to play three games in a span of five days during the past week, the Owls will take advantage of some well-deserved time off before heading to New Jersey on Friday. "The guys have played a lot of soccer, so we're going to give them a few days to clear their heads," said Butcher. "They've waited a long time to get back to the NCAAs, so I'm sure they'll be ready to go."
As far as playing Muhlenberg, Butcher said, "They don't know us and we don't know them, so it's a question of how much can I find out about them and how much can they find out about us."
For up-to-date news on all KSC teams, go to www.keeneowls.com.