Benning and Dallas Named NFHCA All-Americans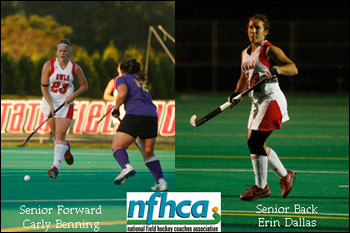 KEENE, N.H. 11/24/09 - Keene State College placed two players on the recently announced National Field Hockey Coaches Association (NFHCA) All-America team. Carly Benning, a senior from Brewster, Mass., was named to the second-team, while Erin Dallas, a senior from Marlow, N.H., was a third-team selection. Dallas was also named to the first-team of the womensfieldhockey.com All- America squad.
A first-time All-American, Benning led the Little East Conference in points (58) and goals (27). A starter in all 24 matches, she registered multiple points in 18 matches. She had a knack for netting the decisive score this season, notching game-winning goals in 14 of Keene State's 18 victories. The Little East Offensive Player of the Year and a first-team All-Region and All- LEC selection, Benning concludes her career fourth on KSC's all-time goal (54) and point (124) list. She is the seventh Owl to reach the coveted 100-point career milestone.
"I was definitely surprised. It's a tremendous honor that I always wanted to receive," said Benning, who found out about the award via a text message from coach Amy Watson. "I worked really hard to get where I am, and it finally paid off for me."
"Carly had the kind of career you dream about," said Watson. "She got better every season and peaked in her senior year. There was no one better in the Little East Conference when it came to putting the ball in the net this season."
Dallas becomes the first player in program's history to become a three-time All-American. Dallas, who earned first-team honors the past two seasons as a midfielder, was recognized for her performance on defense this season. The talented back helped anchor an Owls' defensive squad that posted a program- best 12 shutouts, including six scoreless matches to start the 2009 season. Keene State limited its opponents to fewer than two markers in 16 matches to post a team goal against average of 0.99. Dallas also contributed to the offensive rush on penalty corners with 14 points, including 10 helpers. She is the first student-athlete in the history of the Little East to be honored as both the Offensive and Defensive Player of the Year in her career and is a three-time first-team All-Region and All-LEC pick.
Returning to the Keene State team after making a miraculous comeback from a post-surgical infection to play her final season for the Owls, Dallas became the Owls all-time assist (42) leader this season. Dallas said this All-America honor was special. "It's the best one yet," she said. "Considering what happened to me and the fact that my playing ability changed, I didn't expect to get any honors this year." "The beginning of the season was rough for me," admitted Dallas. "I wasn't happy with the way I was playing. But once we got more into the season, I was definitely satisfied with how things went."
"Erin's story is amazing," said Watson. "It takes a special player to have that drive and determination to fight through that type of adversity and earn All-America honors. "She's well respected in the field hockey community."
Dallas said she is focusing on finishing school and is looking into a possible coaching position this spring.
Watson said you can't replace either player: "You hope that the people who played with them have picked up some of their skills and dedication and are ready to step up and assume larger roles."
Related Stories