Kate Weare Company Launches Redfern's Dance Season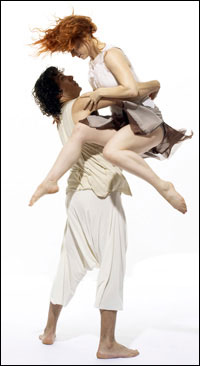 KEENE, NH, 9/17/09 - One of New York's most creative young choreographers will launch the Keene State College Redfern Arts Center's dance season. Kate Weare Company will bring two of their latest works to the Redfern, Wednesday, October 7, at 7:30 p.m. The works are Lean-To, which premiered at the Bates Dance Festival this summer and Bridge of Sighs, co-commissioned by Jacob's Pillow Dance Festival and premiered at the Pillow in summer 2008.
Weare, originally from California, has since presented work in Los Angeles, San Francisco, New York, London, Belgrade, and Vienna. Since moving to New York in 2000, she has twice been commissioned by Dance Theater Workshop and presented work at Joyce Soho, Danspace at St. Mark's Church, The Kitchen, DancemOpolitan at Joe's Pub, The 92nd St. Y, The Puffin Room, and New York University's Frederick Loewe Theater. She recently was described by The New York Times as, "defining the next generation of dance makers."
In Lean-To Kurt Perschke's 20-foot-tall arcing set hovers over the dancers and is actively transformed by Brian Jones's lighting from menace to shelter. The collaborative elements of Lean-To layer upon each other to accumulate meaning, ultimately offering a dynamic and sensitive look at issues of inter- dependence and integration.
The title of Bridge of Sighs refers to the bridge of the same name in Venice, Italy, a world-famous symbol of romantic love. However, centuries ago the view from the Bridge of Sighs was the last one convicts saw before being locked up in the Doge's prisons. This quartet for two women and two men looks at the instincts - both reckless and wise - that drive us toward love. Debora Jowitt of The Village Voice wrote, "Note to self: Try not to miss any performances by Kate Weare Company. While joining the fervent applause for the premiere of Bridge of Sighs at Jacob's Pillow, I'm thinking: 'This is what I've been craving.'"
Tickets and information are available at the Redfern Arts Center box office, 603-358-2168, or online at www.keene.edu/racbp where you can also view many video clips from the season's Visiting Artists repertoire. Special memberships with many benefits, including free tickets, are also available at the Redfern box office or online.
Related Stories