U.S. News & World Report Lists Keene State Among the Best Colleges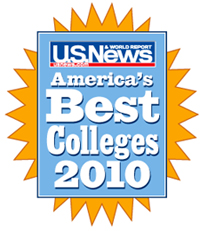 KEENE, N.H., 8/27/09 - U.S. News & World Report has listed Keene State College as one of the top schools in the North by as part of its annual rankings. The College was listed 81st in the Masters University-North Tier 1 listing, and 25th in the Top Public Schools Masters University-North listing in the 2010 edition of America's Best Colleges.
"This ranking serves as one among many external validations that the College is fulfilling its primary goal of enhancing the academic program and excellence throughout the campus," said Keene State President Helen Giles-Gee.
This year the Masters Universities listing ranked 572 institutions that offer a full range of undergraduate degrees and some master's degree programs but few, if any, doctoral degrees. The indicators used in the rankings include academic quality peer assessment, student retention, faculty resources, student selectivity, financial resources, and alumni giving rates. More about the U.S. News & World Report rankings and methodologies can be found at http://www.usnews.com/college.
Related Stories