Women's Lax Team to Meet Middlebury in NCAA Tourney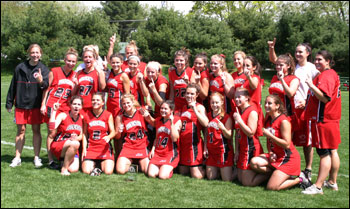 KEENE, N.H., 5/4/09 - The Little East champion Keene State women's lacrosse team will makes its inaugural appearance in the NCAA Division III Tournament on Wednesday (4:30 p.m.) when they travel to Middlebury College to face the Panthers in a first-round game.
The Owls (12-8) earned the berth with a stunning 9-8 overtime win against Eastern Conn. in the Little East Conference championship game on Saturday. The Middlebury women's lacrosse team (9-5) earned an at-large bid to the NCAA Tournament after suffering a 17-12 loss to Colby in a NESCAC semifinal game played at Tufts on Saturday. The winner of Saturday's game will advance to an NCAA Regional at Colby.
Keene State will be facing a tournament-tested Middlebury College team. The Panthers have never had a losing season. The squad has won five NCAA Championships since '97, including four perfect seasons ('99, '01, '02, and '04). The Panthers made 14 straight trips to the final four from '94-'07 and have appeared in seven NCAA title games. The Panthers have also hosted all eight NESCAC tournaments, winning the title seven times.
"I wasn't surprised with our draw," said Katie Arsenault, the Owls first-year coach. "The top-five teams in the region are really strong. I think it will be a good experience for us."
As far as going up against a national-caliber opponent, Arsenault said, "I'm going to tell the team to treat it like any other game. Just going up there and showing we can play against such a strong team would be a major accomplishment. We're not expected to win, so all the pressure is pretty much off. We're going to go up and play lacrosse and have fun." Improving as the season progressed, Keene State enters the tournament riding a program-record eight-game winning streak.
Related Stories