Birthday Cake and Fireworks April 15 for KSC100!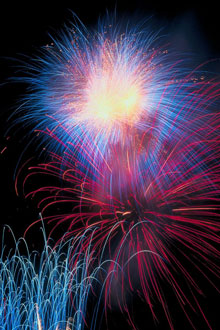 Be a part of history on April 15 as we celebrate the 100th anniversary of the founding of Keene Normal School. Everyone is invited! Please join current students, faculty, staff, alumni, parents, and the community.
Keene State College Campus
Wed., April 15
We'll supply the food, fun, festivities, and fireworks!
Free and open to the public
The schedule for the evening is as follows:
7:30 p.m. Centennial proclamation reaches Central Square in Keene. The proclamation, issued that morning by Gov. Lynch, will be relayed by runners and walkers all the way from Concord to Keene.
7:45 p.m. Centennial proclamation enters campus at the Appian Gateway on Main Street. Please help us hand it along Appian Way to the stage outside the Student Center.
8 p.m. Music, cheering, dancing, special remarks, and the biggest birthday cake you've ever seen!
8:40 p.m. Fireworks, viewed from the Oya Hill plaza outside the Zorn Dining Commons
You can also visit http://keeneweb.org/ksc100 to share your good wishes and monitor the progress of the centennial proclamation as it's hand-carried from Concord to Keene on April 15.
Related Stories