Owl Laxmen Meet Eastern Conn. Saturday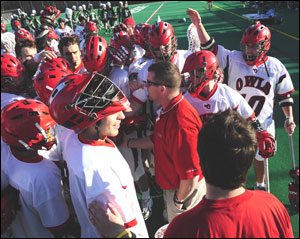 KEENE, N.H. 4/9/09 - Practice was a little bit different for the Keene State men's lacrosse team this week: The hitting was harder, the passes were crisper, and the shots were a little bit stronger - with good reason. The Owls are getting set to host Eastern Conn. State on Saturday (1 p.m.) in a game that could determine the home-field advantage if the two rivals meet in the championship game of the Little East tournament.
"Everyone is excited like you won't believe," said Casey Brodersen, a senior midfielder from Derry. "We've had some pretty intense practices."
How intense? At the tail end of Tuesday's practice, the entire team circled the goal at the far end of the field. In a game called "Survivor," one offensive and one defensive player are placed in the middle of the circle. The object of the game is predictable: The offensive player attempts to score, while the defensive player's job is to stop him. There's only one hitch: The defensive player doesn't have a stick. "It was pretty wild," said Brodersen. "It set the tone for the week."
After dropping a pair of games to nationally ranked teams, Geneseo State (14-6) and Bowdoin (16-9), Keene State (4-2, 2-0 LEC) bounced back to win their last two LEC games over UMass-Dartmouth (20-5) and Salem State (13-4).
Also undefeated in conference play, Eastern (6-3, 2-0 LEC) saw its three-game winning streak come to end with a 12-9 loss to nationally ranked Trinity (12-9) on Tuesday.
"We'd like to build on those wins," said KSC Coach Mark Theriault. "In these big games, we need to make sure we execute and play a complete game. Because we know Eastern is good and if we do make mistakes, we'll probably pay for it."
Both teams can put the ball in the net. Griffin Meehan (20-12-32) and Brodersen (13-4-17) lead the Owls in scoring, while Tony Santa Fe has dished out a team-high 15 assists. Taking over for Matt Johnson in goal this season, Alec Corliss has posted an 8.97 GAA and .596 save percentage.
Matthew Savage (19-11-30) and DJ Simmons (18-9-27) are the top guns for the Warriors. Kyle Savage, the twin brother of Matt, has an 8.58 GAA and a .584 save percentage between the pipes.
Both teams are pretty even going into Saturday's game: Eastern (12.67) and Keene (12.60) are one-two in goals per game in the LEC.
The KSC-ECSU rivalry took a while to get going. When the Owls began varsity play in the spring of 1998, they were easy fodder for the Warriors. Eastern outscored KSC 122-19 in the teams' first six meetings, but the scoring deficit gradually diminished over the years. KSC and ECSU met in the 2003 and 2004 LEC finals, with the Warriors winning each time. The tide turned in the Owls favor in 2005 when they defeated Eastern in the regular season and tournament championship to earn their first NCAA berth. Since that time, the two teams have traded titles, with ECSU winning in 2006 (14-12) and KSC prevailing in 2007 (18-6). Both teams were semifinals upset victims last spring.
Home field has been crucial to each team's success: Play at home, win at home.
"I'm going out on the limb and say that a win on Saturday will determine who gets to host the tournament," said Theriault. "Home field is enormously important, especially playing on the turf up here," said Brodersen. "I think it's to our advantage if it rains on Saturday, because we play on this surface all the time." "A lot of people are going home for Easter weekend, but those who stay around are going to see one great game," said Theriault.
Related Stories