An Evening of Dance Turns 35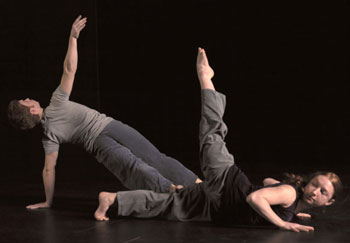 KEENE, N.H., 04/02/09 - KSC's much-anticipated "An Evening of Dance," now in its 35th year, is scheduled for Wednesday to Saturday, April 22 to 25, at 7:30 p.m. in the Main Theatre of the Redfern Arts Center on Brickyard Pond.
This modern dance event presents an exciting collection of faculty, student, and guest artist choreography to inspire, enliven, and enrich its audiences. Each of the seven pieces brings a new perspective, engaging and transporting viewers and entertaining them with the honest beauty of dance.
Theatre and Dance faculty members Marcia Murdock and William Seigh created "Close to Home," an ensemble modern dance piece that begins by looking at the places we choose to live, and ends with questions about the true nature of home. This choreographic collaboration is supported by a minimalist set designed by KSC Theatre and Dance faculty member Céline Perron, and a sound score filled with contrast and surprise.
In "Assemble," guest artist Cathy Nicoli has explored the act and practice of assembly in order to imagine unity between disparate parts. As the flowing work evolves from solo to duo, to increasingly large ensemble, the audience is reminded of the emotional powers of non-narrative dance making.
KSC Theatre and Dance major Jessica Howard '09, recipient of the 2009 Alta Lu Townes Memorial Dance Award, composed a solo that explores the relationship of the dancing body with the projected image.
Howard's work, "Forgetting the Water Willow," represented Keene State at the New England Regional ACDFA Conference at University of Maine/Orono, as did junior Theatre and Dance major Angela Hartley's duet, "Pulley System." Set to the music of Kanno Youko and Gary and the Pacemakers, this dance questions the necessity of interdependence. "Hush" is a large group work by Theatre and Dance junior Shawn Ahern '10, recipient of KSC's Michael Keller Award. The dance follows one man's journey as he attempts to resist the sea of real and imagined pressures surrounding him. This work is accompanied by a live lullaby and original composition by freshman Ryan LaLiberty.
KSC junior Hannah Fluet dances in her duet, "Impasse," in which she uses nonstop partnering to convey the delicacy of a relationship. The last piece, "Renewal," a sextet by senior Lindsay Taflas, is a celebration of strength and camaraderie. Taflas, who also dances in her work, has created a sisterhood filled with images of both individuality and mutual support.
Murdock and Seigh are director and associate director of the performance. Perron is set and lighting designer. Costume designs are by Emily Dunn, and Craig Lindsay is technical director. All are members of the Theatre and Dance Department.
Admission is $10 for the general public and $5 for KSC students, senior citizens, and youth ages 17 and younger. For tickets, please call the box office at 603-358-2168.
Related Stories