Colina Sets KSC Javelin Record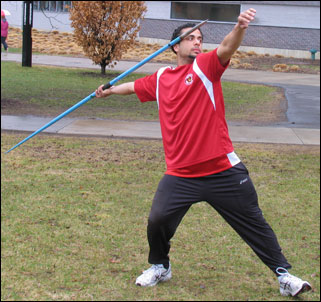 KEENE, N.H., 3/29/09 - Dan Colina isn't typically a nervous person, but the Keene State junior was admittedly a little apprehensive as he and his Owl teammates headed down to Hartford for their first outdoor track meet of the season at Trinity College on Saturday. A former high school state champion and junior college All-American javelin thrower, Colina kept wondering how he'd perform in his first competition in over a year. "I just kept thinking about all the hard work and training I've done the past few months," he said. "But there's only so much you can accomplish inside a gym."
The fact that his event was one of the first of the day didn't make things any easier for Colina, who quickly set about the task of getting his javelin weighed and doing his warm-up in preparation for the competition.
The sixth of 16 competitors, Colina watched anxiously as others stepped to the line to complete their first flight of throws. "As I got ready to throw, I kept going over my mechanics," Colina said. "I felt strong and ready to go."
Taking a deep breath, Colina charged to the line, reared back, and unleashed the javelin into the air. "You can tell the second you let it go if you had a good throw," he said. "If it comes out of your hand nice and easy with little effort, you know it has the potential to be a good throw."
Watching the flight of his javelin as it pierced the air on an unseasonably warm afternoon in late March, Colina knew that he hadn't lost the touch. The javelin eventually made its way back to earth, where the tip buried itself in the recently thawed soil. Colina smiled as he looked around to gage the reaction of the remaining competitors and the few coaches and spectators surrounding the circle. With his javelin planted far beyond those of the other competitors, the question of who would win the event was quickly replaced with the question, "How far did Colina's throw actually go?"
The first try measuring Colina's arm-generated missile proved futile, because the official's tape measure wasn't long enough. The officials and coaches spent the next 15 minutes or so scurrying about to find a metric measuring tape to answer the question. Hearing the commotion from the track, KSC head coach Peter Thomas came running over to join Owl throwing coach Darcy Wilson and help restore order.
Finally getting a tape measure long enough, officials noted the mark on their sheet: 65.18 meters. (213'10") - over 41 feet farther than his closest competitor at the meet and six feet farther than the wining mark at last year's NCAA Championship. In his first throw at Keene State, Colina had not only shattered the Owl record of 201'4", which Paul Trocki set in 1979, but he'd also posted an automatic NCAA Division III Championship qualifying mark.
"When I heard the mark, it was like being in a dream," said Colina, whose previous best effort was 192 feet. "You don't expect to do it, especially this early in the season."
"Dan is one of the hardest workers I've ever coached, so I expected big things from him," said Wilson. "But this was an early surprise." Originally from Boston and now living in Dover, N.H., Colina's stardom in the javelin just didn't fall out of the sky. Dan attended Mt. Ararat High School in Maine, where he captured the state javelin championship as a senior. He would later spend some time at Dean College in Franklin, Mass., where he played basketball before transferring to Allen County Community College in Kansas. Colina earned junior college All-American honors at Allen County before packing up his javelin and moving on to King College in Bristol, Tenn. Colina qualified for the NAIA championship, but missed All-American honors by two places.
Looking to improve his performance in the event, Colina, who stands 5'11" and weighs a solid 195 lbs., spent some time at Eastern Tennessee State, where he trained with two-time Olympian discus thrower Meg Stone. He later returned to Boston, training with the Greater Boston Track Club. Colina was drawn to Keene State by its special education program and the chance to compete in track.
Colina, who will turn 23 in June, said he never worked harder in his life to prepare for this spring's outdoor track season. "I started working out when I got to Keene this fall and even stayed around between semesters," he said. "I wanted to be ready." With his record and NCAA qualifying throw on Saturday, Colina proved to be more than ready, but feels he can do better. "There are some mechanical things I need to work on, and I'm still trying to build up my arm strength," he said. "You always can improve."
Related Stories