Three at NCAA Track and Field Championships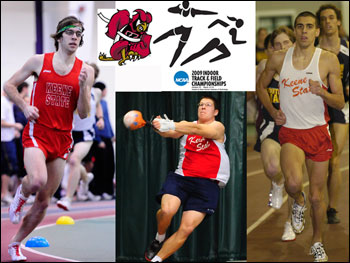 KEENE, N.H., 3/10/09 - Keene State will have three competitors among the 446 athletes representing 134 colleges from 27 states participating in the 25th annual NCAA Division III Indoor Track and Field National Championships at Rose-Hulman Institute of Technology in Terra Haute, Indiana, this Friday and Saturday (March 13 and 14).
All three athletes are from the Keene State men's team. Sophomore Craig MacPerson (Derry, N.H.) is the top seed in the mile, sophomore Bryan Kolacz (Brentwood, N.H.) is the third seed in the weight throw, and senior Peter Najem (Derry, N.H.) is seeded sixth in the 800-meter race.
The only Owl All-American among the trio, MacPherson became the first KSC freshman to earn an individual indoor honor with his third-place finish in the mile at last year's national meet.
"Craig is focused and ready to race," said KSC Coach Peter Thomas. "He's been there and knows what it takes."
MacPherson, who missed 10 days of training due to an illness, came back to finish third in the mile at the New England Championships. "I'm in as good shape as I'm going to be and supremely confident," he said. "I'm ready to go out there and show that I'm one of the best milers in Division III."
After capturing the weight-throw event at the Little East Alliance meet with a school-record mark of 60' 0.834" and placing first at the New England Division III championships, Kolacz took some time off to prepare for the nationals.
"Bryan has put in a lot of hard training and will hopefully peak at nationals," said KSC throwing coach Darcy Wilson. "My hope for him is that he reaches the finals and competes well."
Kolacz, who qualified for the NCAA outdoor championships in the hammer throw last spring, has set his goals high. "I'm looking for a top-three performance," Kolacz said. "I think that's easily attainable for me."
Unsuccessful in reaching the championships as a member of Keene State's distant medley relay team the past three years, Najem will be making his first appearance on the national stage.
Najem has been cursed throughout his college career. Contracting mono as a freshman, he also got sick after a few strong showings as a sophomore and then suffered a knee injury last year. "It feels great to be healthy," said Najem, who has elevated his performances this season, setting a school record in the 800 (1:52.99) at the New England championships. "This is my last year, so I decided to practice and give 100 percent, and it's paid off."
MacPherson and Najem will race in preliminary heats on Friday, looking to post qualifying times for Saturday's final. Kolacz jumps right into the fire, with qualifying and finals in the weight throw taking place on Friday.
Related Stories