Keigwin+Company Returns to Keene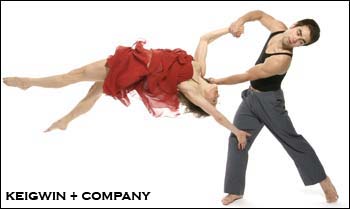 KEENE, 3/5/09 - Keigwin+Company, a dance company that never shies away from the "e" word - "entertainment" - brings its latest creation, Elements: Water, Fire, Earth, Air, to the Main Theatre at Keene State College's Redfern Arts Center on Wednesday, March 25, at 7:30 p.m. Under the direction of choreographer Larry Keigwin, the company creates provocative, witty, and engaging dances.
K+C combines physicality with theatricality, sampling a variety of mediums and, ultimately, fusing art with entertainment. Elements marks K+C's second visit to Keene, having performed to great acclaim in November 2005.
Audiences can get a sample of the kinetic hi-jinks style of K+C by attending the Keigwin Kabaret on Tuesday, March 24, at 7:30 in the Redfern's Alumni Recital Hall. The Kabaret is a spectacle of contemporary dance and burlesque. Audiences glimpse the underbelly of performance culture through provocative evenings of dance and comedy, performed in a Warholesque spirit. The Kabaret is free and open to the public.
An evening-length work, Elements made its New York premiere on July 28, 2008, at the Joyce Theater. It showcases Keigwin's famed combination of campy wit and pathos to bring a totally new view of an often over-done theme.
The first element, Water, has four subsections: "Shower," "Sea," "Spa," and "Splash." In "Shower," the supposedly naked dancers (wrapped in towels) frolic to music by Mozart. (Note: In "Shower," the audience gets a quick glimpse of a bare behind.) In "Sea," a female dancer, in a polka-dot bikini, is lifted high in the air by three men trying to court her to Cole Porter's "Let's Do It." "Spa" is set to Marcela Cortes Galvan's "Que Sera de Mi." In "Splash," the company takes the stage, moving in wave-like fluidity, again to Mozart.
In Fire, a trio of dancers suggests fireflies moving to a Handel aria. A female dancer evokes high drama in dancing to Patsy Cline's "Crazy." Fire concludes with three dancers standing in a line, bopping their heads, and then breaking into hip hop to "Walk It Out."
In Earth, the dancers are dressed in fall-colored tones, deep reds and dark browns. They stay close to the ground, deep-kneed with limbs splayed, evoking the animals "Gecko," "Chameleon," "Dragon," and "Iguana" that the subsections suggest. The music ranges from Debussy to Devo.
The evening concludes with Air. It is fluid, a nice complement to Water. The subsections are danced to a range of music from Jim Webb's "Up, Up, and Away" to Philip Glass' "Channels and Winds."
Tickets for Elements are available through the Redfern box office (603-358-2168) or online at www.keene.edu/racbp. Ticket prices for the evening performance are $28 and $25 for the general public, $26 and $23 for seniors and KSC faculty and staff, $16 and $15 for youth 17 and younger, and $5 for KSC students with ID.
Tickets are also available for all of the Redfern's Presenting Series events and for performances by the departments of Music and Theatre and Dance. Patrons can still purchase 20/20 memberships that enable them to receive a 20% discount for all Presenting Series performances.
Related Stories