Men Capture NEISDA Swim Championship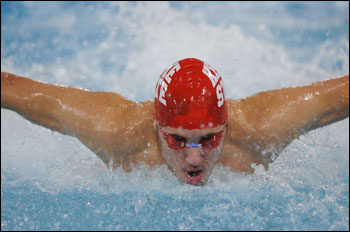 BRISTOL, CONN., 3/1/09 - Bridesmaids no more. After finishing second three out of the past six years, Keene State College captured its first men's New England Intercollegiate Swimming and Diving Association (NEISDA) championship at Roger Williams University in Bristol, R.I., on Sunday, March 1.
Leading from start to finish at the three-day meet, Keene State tallied 629 points. Long-time pool rival Bentley University was second with 552 points. Host Roger Williams was a distant third with 333 points. A total of 13 teams scored at the meet. The Owls, who lost to Bentley by just 11 points last year, ended the Falcons' four-year reign.
"If someone told me at the start of the season we would win the championship, I'd tell them they were crazy, because we lost two key swimmers," said Jack Fabian, who was named the NEISDA Men's Coach of the Year. "This was a very young team, but a very determined team that wouldn't be denied the championship."
"It hasn't hit me yet," said junior captain Domingo Rose of Nashua, who was named the Swimmer of the Meet. "All the hard work paid off. Everybody who competed scored at least one point, so it was truly a team championship."
The Owls won the championship in style, setting school records in 12 individual and five relay races. The 13 KSC competitors combined to earn 45 All-New England honors. "Not only did we win the majority of individual races, but we swept all five relays," said Fabian. "That was the key."
KSC set three school records on Sunday.
Sophomore Karl Balinski (Waterford, Conn.) began the day by winning the 100 free (46.89). Freshman Colin Daley (Cromwell, Conn.) placed second in the 50 backstroke with a school-record time of 25.20. Rose followed with a second- place finish in the 200 breast, also setting a school record with a time of 2:08.26.
Sophomore Connor Pennoyer (Norwalk, Conn.) won the 200 butterfly with a time of 1:57.84. Freshman Ramsey Haddad (Barrington, R.I.) was third (2:01.89). Freshman Harrison Hollingsworth (Derry, N.H.) swam to a victory in the 100 individual medley.
In the three-meter diving event, sophomore Tim Thornton (Fairfield, Conn.) placed third with 390.60 points.
The Owls concluded the meet by capturing the 400 free relay. The team of Rose, Hollingsworth, Pennoyer, and Balinski set a school record with a time of 3:10.47.
Several Owls will find out this week if their times will be good enough to earn them a berth at the NCAA Division III championships later this month in Minneapolis. "I'll be on pins and needles waiting," said Rose, who is in contention for a spot in the 50 free and the 200 medley relay. "If I get a chance to go, it would mean the world to me."
Related Stories