"An Evening of John Philip Sousa" Honors KSC's 100th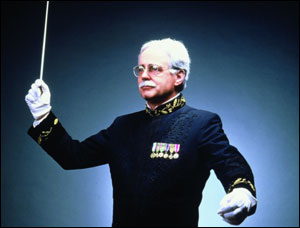 KEENE, N.H., 02/28/09 - Step back in time to the famous beat of America's March King in "An Evening of John Philip Sousa." Music director Dr. James Chesebrough welcomes Dr. Keith Brion, guest conductor of the KSC Concert Band, who will recreate a concert by one of the most famous and popular musical personalities of the 20th century in honor of Keene State's Centennial Celebration. Keene State invites the campus and community to enjoy an evening's entertainment applauded by their ancestors on Tuesday, April 7, at 7:30 p.m. in the Main Theatre of the Redfern Arts Center on Brickyard Pond. Sousa visited Keene with his band on six occasions between 1897 and 1912, performing at either the city's Opera House or City Hall.
Brion, who portrays this American phenomenon, is considered the single greatest authority on Sousa and will prepare an historically accurate recreation of a Sousa Band concert. Brion will take the podium and lead the KSC Concert Band in an evening of classical, dance, and popular music, exactly as it would have been heard 100 years ago. "Sousa's concerts were rarely all- Sousa," explained Brion, "but rather a mixture of light classics, novelties, and brilliant instrumental and vocal solos, with Sousa marches played as rapid-fire encores."
Featured performers will be KSC music performance major Heather O'Connor '09 (soprano) and music faculty members James Boccia (trumpet) and Dr. Craig Sylvern (saxophone).
Brion is music director of his own New Sousa Band, and has appeared as a frequent guest conductor with nearly all of America's major symphony orchestras and professional bands. He has appeared with most of the major service bands, including the United States Marine Band, Army Field Band, Army Band, Coast Guard Band, and the United States Army Band of Europe in Heidelberg, Germany. He presents his popular Sousa revival concerts with many of America's symphony orchestras, including the Boston Pops, the Philadelphia Orchestra, and the St. Louis, Dallas, and Milwaukee symphonies.
Brion will be in week-long residence at the college, speaking to classes on music history, conducting, and the theatre craft involved in depicting the on- stage persona. He will also rehearse with the Concert Band to prepare for the April 7 performance.
Admission is $10 for the general public and $5 for KSC students, senior citizens, and youth ages 17 and under. Located off Wyman Way, the Redfern Arts Center is accessible to people with disabilities. For tickets, or to request accommodations for a disability, please call the box office at 603-358-2168 prior to the concert.
The concert is sponsored by the KSC Centennial Committee, the School of Arts and Humanities, and the KSC Music Department.
Related Stories