Palmer's Military Background Helps Owl Swimmers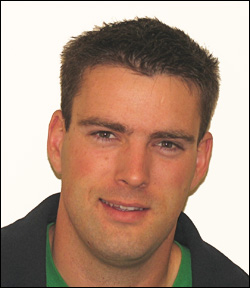 KEENE, N.H., 2/4/09 - Eric Palmer isn't your typical assistant swim coach. For starters, the 26-year-old Army veteran is a senior sociology major at Keene State College. Secondly, his swimming experience is limited, unless you include an occasional recreational swim at the College's Spaulding Gym Pool.
But don't tell head coach Jack Fabian or members of the Owl swim teams that Palmer isn't an important member of the program's coaching staff. Although he lacks the typical credentials associated with the position, Palmer's atypical background has played a major role in the team's success the past two seasons. During his tenure, KSC has posted a combined 36-9 dual-meet mark and set 20 school records. In addition, the Owl women have won back-to-back LEC titles, captured the 2008 Division II-III New England Intercollegiate Swimming and Diving (NEISDA) championship, and had the program's first NCAA Division III qualifier last year.
Palmer, who came to Keene State after serving his second tour of duty overseas in Kuwait and Iraq, utilized his military background and fitness experience to get the Owls in shape.
At the start of the season and several times a week, culminating with the Owls' intersession trip to Florida, Palmer held early morning dry-land training sessions with the team. But this wasn't just few Jack LaLanne calisthenics or Richard Simmons' "Sweating to the Oldies" classes. Palmer put the Owl swimmers through an intense workout designed to improve their stamina and conditioning.
"Some of the athletes thought I was crazy with the strenuous workout," said Palmer. "But when they go to race, I'm probably more nervous than they are, watching them. In my mind I'm thinking, 'Did I do enough to help them?'"
You don't have to tell Fabian the benefits of the out-of-pool training. "The land portion and strength training is incredibly important for swimmers," said the Owls' third-year coach. "They can't do everything in the pool, because eventually their strokes will break down and they'll fall apart."
Fabian also liked the fact that Palmer brought something different to his program. "He served in Iraq and has seen a lot for a young man," he said. "Eric's not much older than the members of the team, so it helps them to realize they are becoming adults. It's a reality check."
Originally from El Paso, Texas, Palmer had his reality check at an early age. When his father (Frank), who spent 20 year in the service, was deployed to Kuwait, the 12-year-old Palmer and his family packed up their belongings and followed him.
"My parents had a philosophy: If I learned about a place, they would try to send me there," said Palmer. With a full backpack and an inquisitive mind, Palmer traveled throughout the Middle East and Mediterranean, learning about its history, people, and culture. "I knew my life was different than most kids," he said.
Palmer's knowledge of the area came in handy when he enlisted in the Army after graduating from high school. Assigned to Special Forces, which included human intelligence gathering, Palmer, with a full-fledged beard and wearing civilian clothes, experienced the conflict first hand.
Because the U.S. forces didn't know who he was, Palmer faced fire from U.S., Iraqi, and Iranian forces. "After a couple of religious experiences, your perspective on life changes," Palmer said. "You start to make a wish list in your mind about things you're going to do when you get back." Palmer's wish list included going to a Red Sox game for the first time and enrolling in college. Returning from active duty in Feb. 2005, Palmer attended a Sox game that May and came to Keene State that fall.
Asked why he selected Keene State, Palmer said he liked the size and feel of the campus. "I came to the area for a family visit when I was young, and something in my gut told me that I would be back here some day," he said.
The transition from military to college life wasn't easy for Palmer. "It's a totally different world," he said. "People talk and look differently. In the military, things get done with no questions. Here people question everything."
The Interim Executive Assistant to the President at Keene State, Jeanne Hearn got to know Palmer through a couple of the College's support programs and realized his potential. "Through his life experiences, Eric has consistently sought to explore new challenges, fully dedicating himself to them," she said. "His motivation to take risks and learn from each of his experiences is exceptional."
Always looking for a new experience, Palmer secured a job as a residence assistant (RA) and was determined to participate on one of Keene State's varsity athletic teams. After an attempt to join the track team didn't pan out, Palmer moved on to the swimming squad. After a few workouts, Fabian pulled Palmer aside and asked him if he would be interested in becoming a student assistant coach. "I was impressed with his military and fitness background and thought he'd be a great addition to the program," Fabian said.
"Instead of an athlete, I became a coach," said Palmer. "It's been a real good experience."
Palmer took his job very seriously. "When you take a swimmer out of the pool, it's like taking a fish out of the water," he said. "You have to convince the swimmers that what you're doing is going to benefit them when they get back into the pool."
"He's really motivated and wants to make you stronger," said sophomore Steve Theleen, who, with Palmer's help, was able to return to the team after he sustained a broken bone in his wrist. "Some people on the team were a little intimidated by his workouts, but they knew it would help them improve."
Palmer and the Owls will get to see the results of their hard work later this month, when they compete at the NEISDA championships. "I never met such a good bunch of kids," said Palmer. "Hopefully, I played a small role in their success."
Palmer is weighting several options, including grad school, a return to active duty, or remaining in the area after graduating in May. "Keene State gave me a totally different outlook on life," Palmer said. "Before, I just had a military persona, and now I have a broader look at things. I wouldn't trade this experience for the world."
Related Stories