Keene State Raises a Banner to Elite Owls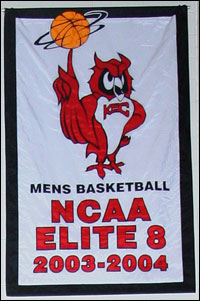 KEENE, N.H., 12/4/07 - As Tina Turners' Simply the Best blasted from the speakers, accompanied by a resounding applause by the Spaulding Gym faithful, the members of the 2003-04 Keene State men's basketball executed their final play on the court last Saturday.
Pulling the rope in unison, cocaptains Alphonse Michalski and Bennett Pawlusiak unveiled a banner proclaiming the team's accomplishments, which will serve as the standard that future Owls will strive to attain: NCAA Tournament Elite Eight and Little East Conference Championships.
A team comprised of talented veterans and complementary role players, the Owls played like a team on a mission throughout the 2003-04 season. Bridesmaids in three prior LEC championship games, the Owls wouldn't be denied their place in KSC history. Setting a program record for wins (25), the 2003-04 Owls became the first KSC team to advance to the Elite Eight of the NCAA men's basketball tournament.
Keene State President Helen Giles-Gee told the players, "You set the standard for basketball achievement that lives on today."
KSC athletic director John Ratliff thanked the team for "a great ride and a memorable postseason trip."
Keene State men's basketball coach Rob Colbert said his 2003-04 team had a very special place in his heart. "They pushed the envelope and raised the bar for work ethic, passion, and developing a special relationship not only with the students, but also with the Keene community."
Colbert added he was equally proud of what his former players have done since leaving Keene State and asked them to continue to strive for excellence. "As much as this is a highlight and a memory that you will have for the rest of your life, I strongly urge you: don't make this the peak of your life."
The Owl captains then took the floor. Pawlusiak presented President Giles-Gee with a check from the team and the players' families and Michalski played the role of MC, introducing the team.
Players at the ceremony included Chris Timson, Matt Wheeler, Brandon Johanson, and Harley Davis, who came all the way from Arizona; Nate Bondini; Matt Craig; Ben Maynard; Sean Sullivan; Adam Gervais; Alex Laush; Nick Wickles; Brian Sheppard; David Sontag; Matt Adams; and Tyler Richards.
Colbert's coaching staff, Brian Pickering, Kevin Justice, and Ben Mecklenberg, were also in attendance. Joe Shaw and assistant coach Mark Smith were unable to attend.
Following the introductions, the players made their way toward the far wall for the banner unveiling. The music began to play, the large crowd started to cheer, and the banner came down proclaiming the 2003-04 Owls as simply the best.
According to Colbert, who also works as an assistant athletic director, Keene State has set up a committee to identify and honor other deserving Owl teams. "This will be the first time we've done a ceremony like this," he said. "But I envision us honoring other teams in the future. Keene State has a rich athletic history, and we want to recognize their success."
Related Stories