Midnight Madness Returns on Friday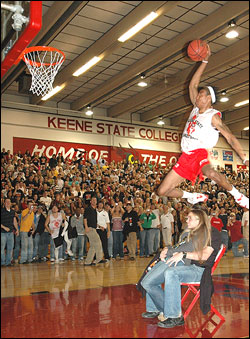 KEENE, N.H., 10/26/07 - Keene State College will hold its 11th annual Midnight Madness celebration at Spaulding Gymnasium on Friday night. Doors are scheduled to open at 10:30 p.m., with festivities getting under way at 11 p.m. The first 1,500 students that come through the door will receive a Midnight Madness T-shirt.
Head men's basketball coach Rob Colbert and the Madness committee have put together a special program this year. There will be contests, incredible prizes, and giveaways leading up to the introduction of this year's men's and women's basketball teams. There will also be performances by KSC cheerleading and dance squads.
The excitement is filtering through campus - especially when it comes to the prizes, including meal plans, parking passes, a laptop computer, $500 in cash, an iPod gift pack, gift certificates, free haircuts from Supercuts, and spring break airfare. "We have all kinds of great stuff," Colbert said. "The Holiday Inn has even donated a getaway weekend at one of their hotels."
Following the games, KSC basketball teams will take to the court and entertain the crowd with slam dunk and three-point shooting contests. "It's an annual get-together for the whole campus," Colbert said, "It's nice for our kids to know how well they are supported on campus and in the community. People really do turn out and show their support for the upcoming year."
Keene State players are especially excited for this year's Midnight Madness event. "It's our coming out party!" said senior captain Matt Hickey. "It really allows for all the guys to be seen, and it showcases our talents as we prepare for the start of the season on November 16."
"I love the crowd!" said senior captain Anthony Licitra. "The feeling you have when they call your name and look into the audience with all that excitement is second to none. The energy is amazing, and we do it for all the fans that support us throughout the year."
Related Stories