Training with the Pats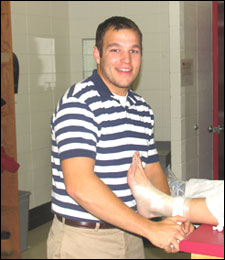 Matt Cutts '09 took his time and did some research before deciding on his major.
Initially considering physical education and teaching, Matt eventually decided on athletic training. "Once I started taking classes, I knew I had found my calling," said the Windsor, Vermont, native.
Working with Keene State lacrosse and softball teams as a student athletic trainer reinforced his decision. Soon the 25-year-old set his sights even higher. "I knew I wanted to work at the highest and most intense job in the field," he said. "And to me that meant the NFL."
To get his foot in the door, Cutts looked into internship programs. With the help of Nancy Bleam, a member of KSC's athletic training staff, Cutts sent out inquiries to all 32 teams in the National Football League in the fall of 2006. Jim Whalen, the New England Patriots' head trainer, responded and asked him to forward his résumé and references.
During spring break week, Cutts got the call he was waiting for. Dave Granito, the Patriots' assistant athletic trainer, called Matt and told him that after receiving a glowing recommendation from KSC head athletic trainer Bob Merrow, he'd been accepted into the team's internship program.
"He tried to dissuade me a bit by telling me it wasn't as glorified as it sounds and about the long hours," said Cutts, who was not put off. "He could have told me the worst, and I would have taken it with a smile," he said. "I was on cloud nine."
Reporting to the Pats' Foxborough camp in mid-July, Cutts joined a group of interns from Division I schools from all over the country. He quickly learned there is no down time at training camp. A typical day for interns runs from 6 a.m. to 10:30 p.m., hours spent stretching, massaging, taping, and dispensing water and Gatorade to 110 players. "You're at their beck and call," Cutts said. "Whatever they need, you get for them."
Cutts won't soon forget his first "meeting" with Coach Bill Belichick. A stickler for detail, Belichick's long list of rules includes no water during stretching. Unfortunately, no one told Cutts. When the eager intern ventured out on the field to wet the whistles of a few prankster players, he was quickly put in his place by the Patriots' coach. "Belichick used a few well- chosen words to tell me to get off the field," Cutts said. "It was my initiation into the NFL."
Cutts was invited back to observe the home opener against the San Diego Chargers. He said there's a big difference when teams start playing for real. "It's all business. They go full out from whistle to whistle." Cutts absorbed as much as he could. "Trainers have about 30 seconds to determine the severity of injury and whether a doctor is needed. The players are worth so much money. You can't take chances."
Back at Keene State this fall, Cutts is putting his professional experience to good use by helping other students in the athletic training program. "It's interesting to see Matt come back here," said Merrow. "His initiative and desire to succeed rub off on everybody."
A junior in the program, Matt has a few more semesters to complete his degree. And he is that much closer to realizing his dream.
"I'm taking it on with a full head of steam," he said. "School is a lot of time and effort, but after working with the Patriots, this is a piece of cake. I know I'm going to work in the NFL."
Related Stories