KSC Orang Asli Archive Display Features Malaysian Grassroots Economic Development Organization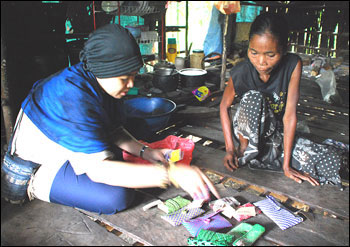 KEENE, N.H., 10/11/07 - Keene State College's Orang Asli Archive has an informative display on Gerai OA, a volunteer-run nonprofit organization that ties grassroots economic development to traditional handcrafted items in the display cases in the corridor leading to the reference section of the Mason Library. The display, made possible through a grant from the KSC Alumni Association, uses photographs and items made by Orang Asli crafts-people to tell the story of this organization.
Gerai OA, "Orang Asli Stall," was started in 2004 to offer a way for the indigenous people of Peninsular Malaysia to gain economic security through the production of their traditional crafts.
Orang Asli, Malaysia's "original people," face many hardships, including lack of economic opportunity, significant loss of land and natural resources, and negative stereotypes in Malaysian society. Gerai OA, run entirely by volunteers, has focused on creating positive change by providing economic opportunity while preserving traditional crafts.
Connecting with Orang Asli craftspeople throughout Malaysia, many of them women, Gerai OA transports crafts from the villages where they are made and sets up their mobile stock wherever a rent-free location can be found. Gerai OA gives 100% of the monies from the sale back to the indigenous craftspeople.
The Orang Asli Archive thanks the KSC Alumni Association, The Center for Orang Asli Concerns, Gerai OA, Emily Zervas, and Jessica Goulet for their contributions to the display, which will remain in the library for the remainder of the academic year.
To learn more about the Orang Asli and Gerai OA, please visit the Orang Asli Archive at www.keene.edu/library/orangasli and The Center for Orang Asli Concerns at www.coac.org.my/. For questions about the exhibit or additional high-quality images, please contact Emily Zervas at emily.zervas@gmail.com.
Related Stories