Freshman Bradford Picks Up Scoring Slack for Owls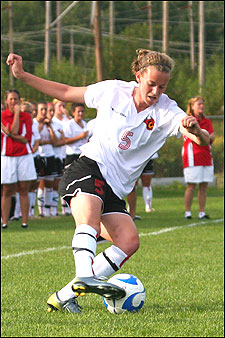 KEENE, N.H., 9/27/07 - Keene State women's soccer coach Denise Lyons can take down the goal scorer-wanted sign at the Owl Athletic Complex.
After auditioning several candidates to join senior Kat Keniston on KSC's front-line, Lyons didn't need to look far to find offensive help for her team.
Standing just over six feet, Katie Bradford is hard to miss. But the freshman from Lebanon brings much more to the table than just size. In addition to being a target for crossing balls, Bradford possesses the speed and quickness needed to outrun defenders and create scoring opportunities or finish the job herself.
"I think we found our natural goal scorer," said Lyons after Bradford netted both goals in the Owls' 2-0 victory over Smith College earlier this season.
A tough customer to boot, Bradford scored the two goals after a first half collision with the Smith goalie.
Since moving into the Owls' starting lineup, Bradford has netted a team and conference high eight goals and 18 points. Scoring goals in bunches, she has logged three two-goal games and should get serious consideration for Little East Rookie of the Year honors. Her eight goals are just one shy of the team- high nine scored by Tara Wagner last season.
Taking nothing for granted, Bradford said, "It's all about proving yourself. All I want to do is impress the coaches and the upperclassmen."
Consider them impressed.
"Katie's playing like a seasoned player," Lyons said. "It's very rare to have a freshman come in and have such an immediate impact."
"I'm really impressed how she's playing," said Keniston. "It usually takes awhile to gel with someone on the field, but we already seem to be on the same page."
Although Bradford was a two-time All-State soccer player at Lebanon, she did the bulk of her scoring at the rink.
Following the lead of her older brothers Andrew and Greg (who plays on the KSC club hockey team), Bradford became a rink rat.
As a freshman, Bradford played at Lebanon High, the second school in the state to have a women's varsity program. Bradford said she loved the sport and didn't shy a way from the contact. "They'd push you around, but I gave it right back to them." said Bradford, who still holds the school record for penalty minutes.
Bradford, the Bobby Orr of Lebanon High, was an offensive-minded defensewoman who became the program's first 100-point scorer as a senior.
Bradford, who also played softball for the Raiders, briefly attended a prep school in Massachusetts with the hope of playing big-time Division I hockey.
Realizing that prep school wasn't a good fit for her, Bradford retuned home. Although, she heard from a few Division III hockey schools, Bradford felt she'd be happier playing soccer and softball.
With a little encouragement from Deb Beach, her former high school softball coach and KSC assistant, Bradford landed at Keene State.
Coming in off the bench in the Owls' first few games, Bradford got an early indoctrination into college soccer. "It's so much more physical than high school," said Bradford. "You can get a way with a lot more things like sliding tackles, pulling shirts, and bumping elbows."
"I lost my temper a little bit and got a yellow card in the game against Smith," Bradford said. "I'm still getting used to the rougher style of play."
Turning the tables, Bradford is now making things rough on Owl opponents with her ability to find the back of the net. The freshman-senior tandem of Bradford and Keniston has given the Keene State offense a much-needed spark.
"I really like playing with Kat; she's got great ball skills and a real good sense for the game," said Bradford. "It's great for me to play with her and learn from her."
Enjoying her initial success, Bradford, who has won consecutive LEC Rookie of the Week honors, has no intentions of letting up. "Anyone can have a good couple of games," she said. "I want to be consistent and string a whole season together."
Related Stories