World-Renowned Pilobolus Dance Company Returns to Redfern Arts Center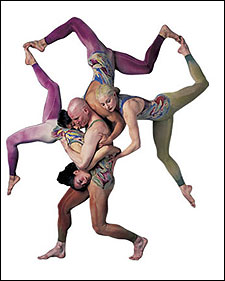 KEENE, N.H., 9/13/07 - The world-renowned Pilobolus Dance Company will make a rare area appearance when it performs at Keene State College's Redfern Arts Center on Brickyard Pond, Wednesday, October 3, 2007, at 7:30 p.m. The performance will be preceded by a talk on Pilobolus's history and impact on modern dance at 6:30 p.m. at the Redfern. Audiences will also have the opportunity to visit with the company after the performance for a question- and-answer session. Audiences are advised that one dance will be performed with topless female nudity.
The company's performance and residency is supported by a New Hampshire State Council on the Arts grant. The grant, American Masterpieces, New Hampshire Inspirations, will also support the company's return to re-create one of their dances, Walklyndon, with Keene State dance students. The students will then rehearse the piece in spring 2008 and perform it for after-school programs in the region and at the Keene State dance program's annual Evening of Dance concert in April. Walklyndon will be performed by Pilobolus at the October 3 concert.
Pilobolus was born out of a Dartmouth College dance class in 1971. What emerged was a collaborative choreographic process that gave the young company a nontraditional but powerful new set of skills with which to make dances.
Today, Pilobolus is a major American dance company of international influence. It has not, however, forsaken its original impetus and remains a deeply committed collaborative effort with three artistic directors and seven dancers contributing to one of the most popular and varied repertoires in the field. More than three decades of making dances testify to the company's position as an artistic collective of remarkable fruitfulness and longevity.
The concert at the Redfern will feature five dances in all. The program will open with Aquatica, which was created in 2005 and originally commissioned by Dartmouth College. This will be followed by one of the company's earlier works, Psuedopia. It is a solo piece and was created in 1973. The first half of the concert will conclude with Shizan, which will be performed with topless female nudity. It was choreographed in 1978 by Pilobolus founding members Alison Chase and Moses Pendleton.
After intermission, the Pilobolus will return to perform Walklyndon. The concert will conclude with Megawatt. This piece was commissioned by Ruth Eckerd Hall, in Clearwater, Florida, to celebrate its 20th anniversary season and premiered there on January 30, 2004.
Tickets are available through the Brickyard Pond box office at 603-358-2168 or on the web. Prices are $40 and $35 for the general public, $38 and $33 for seniors and KSC faculty and staff, $20 and $18 for youth ages 17 years and younger, and $5 for KSC students with an ID.
Tickets for all of the Redfern's presenting events and for performances by the departments of Music and Theatre and Dance are also available. Patrons can still purchase 20/20 memberships that enable them to receive a 20% discount for all Presenting Series performances.
Related Stories