O'Bryant Continues Assault on KSC Volleyball Record Book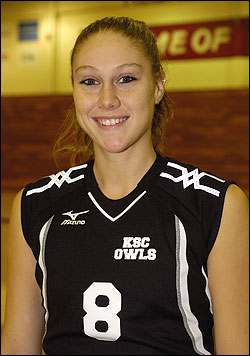 KEENE, N.H. 9/11/07 - It's a women's prerogative to change her mind.
Growing up in Merrimack, Brittany O'Bryant was convinced that she had found her sport of choice. "When I started playing sports it was always basketball," she said. "It was the biggest part of my life."
However, a new school brought a new sport into her life. A week before starting classes at Merrimack High, O'Bryant, taking the advice of her father William, decided to give volleyball a try to stay in shape. It was love at first spike. "I loved it so much I ended up quitting basketball after my freshman year," she said.
O'Bryant credits her former Merrimack High School Coach Gary Lavimoniere for changing her athletic allegiance. A natural athlete with a desire to succeed, O'Bryant began to excel on the court. Garnering offensive and defensive player of the year and MVP honors during her high school career, O'Bryant helped lead the Tomahawks to the State (Class L) semifinals as a sophomore against long- time rival Nashua.
While in high school, O'Bryant also played on the Hardrock club team where she met current KSC coach Bob Weiner and assistants Chuck Roberson and Lloyd Sheehan. The Hardrock program enabled O'Bryant to compete against some of the best players in the state and showcase her skills to college recruits.
When Weiner got the job at Keene State he turned the tables on O'Bryant. "He called me up one day and said "This is really strange, but I've been helping you get recruited and now I'm going to recruit you."
"At Iona, I talked to several coaches about her," Weiner said. "When I got the Keene State job, my first thought was to throw my hat into the ring. "She was the best player available."
Although she looked at a few Division I schools, and considered Franklin Pierce, O'Bryant decided to bring her volleyball talents to Keene State. "I knew I was going to get a lot of playing time and Coach Weiner would build a competitive program," she said.
Stepping into the starting line-up as a freshman, O'Bryant has been the full package for the Owls. "Brittany is a five-skilled athlete who can do everything on the court," said Weiner, who moved her from the outside to the middle last season. "You're not going to find another middle in the LEC who has her all-around skills."
A second-team All-LEC selection last season, O'Bryant, a junior, already holds Owl records for most kills in a match (24) and a season (519). She needs three kills in Wednesday's match against Amherst to own the career mark as well.
"The game never looks difficult to her," Weiner said. "It looks like she's absolutely in control."
Its' no coincidence that Brittany's arrival at KSC coincided with a sudden rise of the team's fortunes. Her freshmen team advanced all the way to the LEC finals and last season KSC set a school record for wins (25) and made its first post-season tournament appearance in 24 years.
But O'Bryant and the Owls have bigger goals this season. "Brittany is never satisfied in just being average,' said Sheehan. "She always wants to take the next step."
Picked as the top team in the LEC preseason poll, Keene State must still prove it on the court. The Owls (5-4) have been in every match this season and have already posted non-conference victories over LEC rivals Western and Eastern Conn.
Volleyball is a team sport and Weiner has surrounded O'Bryant with a strong starting cast that includes senior hitter Kelly Yankowski, defensive standout Sarah Peterson, and setter Jordan Pokryfki. "We know each others strengths and weaknesses and where to be on the court," said O'Bryant. "If we don't play like a team, we're not going to win."
O'Bryant says she doesn't regret her decision to switch sports. That's fact is very evident on the court. "To be a great player, you have to have a passion for the game," said coach Sheehan, who has known O'Bryant since ninth grade. "Brittany loves volleyball."
Related Stories