Keene State Sophomore Medals At Parapan American Games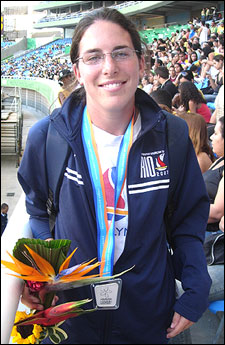 RIO DE JANEIRO, Brazil - Sabra Hawkes, a sophomore from Keene State College, was one of four athletes to medal for the United States team at the recent Parapan American Games held at Joao Havelange Olympic Stadium in Rio De Janeiro.
When the gun went off to signal the start of the women's 200-meter race, Hawkes a native of Rockport, Mass., didn't have the slightest bit of hesitation. Heading into the turn, she had set a good distance between herself and the rest of the pack and managed to carry that momentum down the straightaway to claim gold in 31.26.
"I had no idea I was that far ahead - I thought the Brazilian was right on my tail, so that helped push me through to the finish," said Hawkes, who also took a silver medal in the 100-meter event. "I did not expect to take that race, but I definitely won't complain. My time was slower than I would have liked, but it was good enough."
The three-point stance is the only thing that gives it away for the 19-year- old Hawkes. A mild case of cerebral palsy affecting the left side of her body, she gets down in the stance so she can keep her balance. Once the gun goes off, she's dusting people.
"Because it was something I was born with, it really doesn't affect the way I think about running," she said.
Hawkes, heading into her sophomore year at Keene State, ran a little cross country in middle school but didn't seriously pick up the sport until high school, when her mother was searching online and found a meet in Canton for athletes with disabilities. She hasn't stopped running since, hiring a running coach and training every day except Sunday, doing sprint drills and hitting the weight room.
"When I first started, I had no idea," she said. "I had no idea if I was going to run well. I really just went out there because I like to run. I had no idea it was going to turn into this. Like a long-term thing."
Last year, running took Hawkes to the Netherlands, where she finished seventh in the 200-meter event at the International Paralympic Committee World Championships.
"I'm definitely happy with what I've accomplished. I get to be on teams, and I get to travel, and it's a really good opportunity. And I get to meet a lot of really awesome people - really inspirational people by doing this. And I want to do it as long as I can."
Related Stories