Redfern's 27th Season Offers A Diverse Mix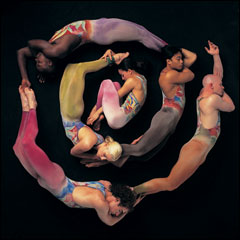 KEENE, N.H., - Opening with a production by the New York/London-based Aquila Theatre Company in Joseph Heller's Catch-22, the Keene State College Redfern Arts Center on Brickyard Pond's 27th season promises to be an eclectic mix of world-class artists. Heller's adaptation of his classic satiric novel on the consequences of war will be seen September 25 with a special school performance on September 26.
Redfern's director, William Menezes, in announcing the season, said that the Redfern is particularly proud of this year's lineup of visiting artists. "They exemplify the meaning of the phrase 'world-class.' For example, we are particularly proud that we will be bringing back to the region Pilobolus Dance Company. They are one of the world's most recognized and popular modern dance troupes. In fact, once the word got out that they would be performing at Keene State, the demand for tickets has been overwhelming."
Pilobolus will be performing October 3. In addition, the Redfern received a New Hampshire State Council for the Arts American Masterpieces New Hampshire Inspirations grant for the company to re-create their dance "Walklyndon" for Keene State dance students. The dance will then be performed for after-school programs in the region during the spring. "Walklyndon" will be performed by Pilobolus at the October 3 concert.
No Redfern Presenting Series would be complete without an international flavor. Alpha Yaya Diallo and his band, the Bafing Riders, with dancer Jackie Essombe, will present an evening of West African rhythms, dance, and music on October 24. Keene State is particularly pleased to be selected by Iceland Dance to be part of its premiere tour of the United States. Wherever they've performed around the world, they've received standing ovations and high critical acclaim.
Fans of classical music will have their choice of three distinctive genres. The Baltimore Consort, America's foremost early music ensemble, will perform November 14. One of the most polished and famous piano trios ever to visit the region, The Eroica Trio will be in residence on February 6. Those who love the sound of a cappella singing will be thrilled to hear the four women of Tapestry Vocal Ensemble. Few ensembles can match their rich, distinctive voices. They will be heard in the program "Faces of Women," dedicated to Women's History Month.
Comedy will also be featured on the Redfern series. The incomparable political satirists The Capitol Steps appear March 25. Their performance could not be better timed than during a heated presidential race. Also audiences will be kept laughing all evening when one of the funniest comic/monologue/dance artists entertaining audiences today brings her one-woman show, Namely, Muscles, to the Redfern on February 28.
The annual collaboration between Keene's Colonial Theatre and the Redfern will continue, when the celebrated Acting Company comes to the Colonial Theatre on April 13 with Moby Dick Rehearsed, Orson Welles's stage adaptation of Herman Melville's classic novel. In addition, Moby Dick Rehearsed will be seen in a special school performance Monday, April 14.
On May 3, the Redfern will collaborate with Keene State's Cohen Center for Holocaust Studies of the world premiere of Kaddish. This musical work, composed by Lawrence Siegel to honor the 25th anniversary of the Cohen Center, creates a series of musical vignettes from the Holocaust performed by soloists, chorus, and orchestra.
The Presenting Series will include two performances by the Keene State Department of Music. On November 13, the KSC Latin American Ensemble, under the direction of José Lezcano will perform with the Alturas Duo in an evening of music from Cuba, Ecuador, Argentina, Peru, and Brazil. The KSC Chamber Orchestra will perform on April 23. Artist-in-residence Don Baldini leads an ensemble of Keene State music students, faculty, and community musicians in a concert of classical compositions.
Keene State Theatre will present the Richard Maltby Jr. and David Shire musical revue, Starting Here, Starting Now. Directed by Vaughn West, it will run from November 14 to 17. Keene State Theatre and Dance will present An Evening of Dance April 16 to 19. Directed by Marcia Murdock, it features contemporary dances choreographed and performed by KSC faculty, staff, alumni, and students. "Walklyndon," performed by KSC dancers, will also be on the program.
Tickets are now on sale for all shows at the Redfern, including other Department of Music and Theatre and Dance performances. Tickets may be ordered by calling 603-358-2168 or on the web at www.keene.edu/racbp. Memberships that offer 20 percent discounts on all Presenting Series performances are also available. Priority seating will be given to those who enroll as members.
Related Stories