KSC Teacher's New Book Reveals Mount Monadnock's Secrets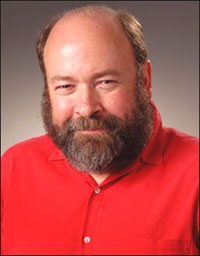 KEENE, N.H., 8/15/07 - Every day Craig Brandon, a teacher and media advisor at Keene State College, sees Mount Monadnock on his way to work.
"It was a story just waiting for someone to tell it," he said. "I have climbed the mountain many times, and I was curious about the many legends I've heard about it."
Brandon blew the dust from archival records, conducted dozens of interviews with Monadnock's experts, and tracked down the answers to the questions most asked by hikers during 10 years of extensive research for his new book, Monadnock: More Than a Mountain, which was released this week by Surry Cottage Books. He collected information in the archives of the Society for the Protection of New Hampshire Forests, which owns most of the mountain, as well as in university and newspaper archives.
The book includes chapters on the 130-year history of efforts to preserve the mountain from developers, stories about the "power hikers" who climb the mountain obsessively, tales of the three airplanes that crashed into the mountain, and some amazing rescue stories. It also includes chapters on the hundreds of painters, poets, and musicians who have turned Monadnock into art over the past 150 years.
Among the innovations that Surry Cottage Books has used with the new book is a companion website that includes additional information that would not fit into the book, such as the full text of many of the poems described in the book, photos of paintings, a Hall of Fame of Monadnock heroes, and a list of frequently asked questions (http://www.monadnockmountain.com).
Monadnock: More Than a Mountain, will be officially released at 5:30 p.m. on Wednesday, August 15, with a party in the Monadnock State Park pavilion. Please note that all visitors will have to pay the $3 state park fee. Among the featured guests will be members of Dianne Eno's dance troupe, "Monadnock Tales" composer Larry Siegel, the Jack in the Green Morris Dancers, keyboardist Carol Compton, and the Lone Mountain Artists group of painters. The author will be answering questions and signing books. For more information, call 603-532-8862.
Related Stories