Writers Conference at Keene State College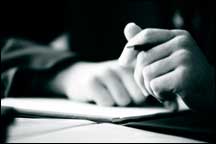 KEENE, N.H., 05/30/07 - Keene State College announces that registration is open for its fifth annual Writers Conference, July 29 to August 4, 2007.
Eight published authors will be brought to campus, and the weeklong conference will focus on helping writers develop their fiction, creative nonfiction, or poetry.
Writers spend each day in workshops, meet individually with instructors and visiting writers, and attend readings. Time is set aside each day for writing.
Faculty brings a breadth of writing experience.
Laurie Alberts wrote three novels, a story collection, and two memoirs. She received the Michener Award for the Novel, The Katherine Anne Porter Prize, the Pirate's Alley Faulkner Society Prize for short story, and an American Fiction award, among other awards. Alberts teaches fiction and creative nonfiction in the Vermont College MFA in Writing Program.
Celia Bland's poems appeared in literary magazines and in anthologies published by Faber and Faber, Oxford Poetry, and Persea Books. Dean of Studies at Bard College, Bland teaches poetry and a first-year seminar at Bard.
William Doreski has published more than 400 poems and 16 books of poetry, criticism, and memoir. An English professor, he has taught creative writing at Keene State College since 1982.
Jack Driscoll wrote four books of poetry, a collection of short stories, and four novels. He is writer-in-residence at the Interlochen Center for the Arts and teachers fiction workshops in Pacific University's low-residency MFA program.
Jeff Friedman's fourth collection of poetry, Black Threads, has just been published by Carnegie Mellon University Press. Friedman is a core faculty member in the MFA program in poetry writing at New England College.
Joseph Monninger has published eight novels and three nonfiction books. He has twice received fellowships from the National Endowment for the Arts and has also received a fellowship from the New Hampshire Council for the Arts. Baby, a young adult novel, appears in September 2008. He is a licensed New Hampshire Fishing Guide.
Dzvinia Orlowsky is founding editor of Four Way Books and author of four poetry collections, including her forthcoming Convertible Night, Flurry of Stones. Orlowsky is a 2006 Pushcart Prize and 1998 Massachusetts Cultural poetry grant recipient. She is a faculty member of the Low-Residency Solstice MFA Creative Writing Program of Pine Manor College.
Rebecca Rule wrote three books, coauthored two how-to-write books, and has two humor CDs. Rule's column on New Hampshire writers, Bookmarks, appears in the Concord Monitor, the Nashua Telegraph, and the Portsmouth Herald.
Base cost for the conference is $950 with additional costs for academic credit at the undergraduate or graduate level and/or conference housing.
Information about the Keene State College Writers Conference is available by calling 603-358-2290 and visiting http://www.keene.edu/conted/writerconf/.
Related Stories