Miller and Kelleher Race to All-American Honors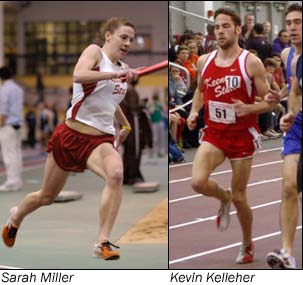 TERRE HAUTE, IND., 3/10/07 - Keene State College's Sarah Miller (Walpole, New Hampshire) and Kevin Kelleher (Rocky Hill, Connecticut) raced to All-America honors in their respective events Saturday at the NCAA Division III Indoor Track and Field Championships held at Rose Hulman Institute of Technology in Terra Haute, Indiana.
Miller, a senior, placed fifth in the finals of the 800-meter race with a time of 2:14.84. It was the third All-America honor for Miller, who moved up from the 400 to the 800 this season. Miller was a member of KSC's national champion distance medley relay and an All-American in the 400 last year.
"I went out with the leaders and tried to hang on as best as I could," said Miller, who rallied down the last straight away to move up from seventh to fifth. "You always want to place higher, but I was happy with my time, especially when you consider it's my first full season running, and I was in a different event."
Miller becomes the 30th Owl woman to earn All-America honors.
Marcia Taddy of Wisconsin-Platteville won the race with a Division III best time of 2:10.14.
Kelleher claimed his first individual All-America honor with a sixth-place finish in the mile race. The junior posted a time of 4:13.00.
"The pace was real slow, so I took the lead for a couple of laps," Kelleher said. "I got boxed in for awhile, but I was able to kick a way at the end for a good finish. It's nice to earn my first individual All-America honor. It makes you feel like you belong."
As a freshman, Kelleher was a member of KSC's All-America DMR team. Kelleher is the 51st Owl men's athlete to earn All-America honors.
Will Leer of Pamona-Pitzer won the mile in a meet record time of 4:08.19.
Jennifer Adams (Saratoga Springs, New York) came up just short in her bid for All-America honors in the mile. The junior placed ninth, one position shy of All-America recognition, with a time of 4:58.58.
Adams, who has not been at full strength this the season, was looking for her fourth All-America honor. Last year, Adams earned All-America awards in cross country, indoor track as a member of KSC's national champion DMR squad, and outdoors in the 10,000-meters.
"We did as well as can be expected," said KSC Coach Peter Thomas. "Both Sarah and Kevin made tremendous strides this season, and I'm sure Jenn would have made it if she was healthy."
Related Stories