Imago Brings a Wild Menagerie of Animals & Illusions to Keene State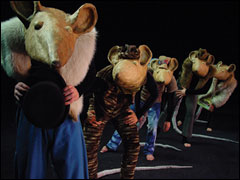 KEENE, N.H., 2/22/07 - Keene State College's Redfern Arts Center on Brickyard Pond will host Imago Theatre Saturday, March 10, at 3 p.m. in Biglittlethings, a wild menagerie of fantastic creatures and amazing illusions. Performed without words and accompanied by an original score, the production promises to be a feast for the eyes, a twister for the mind, a treat for the ears, and a bundle of laughs for all ages.
The New York Times described Biglittlethings as "a mastery of dance, mime, and acrobatics," and The Portland Oregonian wrote that it was "great entertainment for the whole family." The production features a spectacle of escaped raccoons, hitchhiking rabbits, spies in dresses, a 20-foot prehistoric dinosaur, hungry anteaters, six polar bears, insomniac hippos, schools of fish, and other mask eccentricities.
Imago Theatre began in 1979. This will mark its third visit to the Monadnock region, having performed their immensely popular FROGZ at the Redfern. Biglittlethings opened in 2004 after three years in development. The theatre began touring the production internationally in 2005.
In 2001, Imago's FROGZ completed a two-week run on Broadway and returned to the acclaimed New Victory Theatre for a four-week run in May 2002. Imago's explorations of the stage began as a combination of theatre, movement, and the visual arts as influenced by renowned theatre master Jacques Lecoq of Paris, France. First working in the realm of physical comedy and mask theatre, the ensemble progressed toward creating and staging experimental works, original text works, and contemporary adaptations of classics.
Artistic Directors Carol Triffle and Jerry Mouawad - who were also influenced by Robert Wilson, Richard Foreman, Alain Platel, and Trisha Brown - have created a theatre company that is one of the most innovative in the United States.
Ticket prices are $22 and $19 for the general public, $20 and $17 for seniors and KSC faculty and staff, $11 and $9 for youth ages 17 and younger, and $5 for KSC students with an ID. Tickets maybe purchased by calling the Redfern's box office, 603-358-2168, or by visiting www.keene.edu/racbp. Tickets for all of the Redfern's Presenting Series events and for performances by the Department of Theatre and Dance and the Department of Music are also available.
Related Stories