Rebuilding Afghanistan's Economy - KSC's Sidore Lecture Series on Political Economy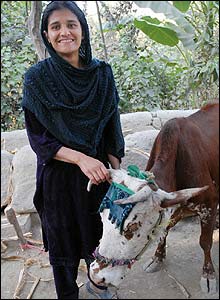 KEENE, N.H., 2/22/07 - Can loans as small as $100 to people too poor to borrow from banks be effective? Recent experience with these loans (mostly given to women in developing countries) suggests this "microfinance" approach is an important tool in the global battle against poverty.
Joyce B. Lehman will address these and other issues on Tuesday, February 27, at 7 p.m. in the Mabel Brown Room of the Student Center. Her talk, "Out of the Rubble: Rebuilding the Afghan Economy," is part of Keene State College's 2006-07 Sidore Series on political economy.
Lehman recently completed an assignment as the chief operating officer of the Microfinance Investment Support Facility for Afghanistan (MISFA). She is a finance advisor for Agriculture, Rural Investment, and Enterprise Strengthening (ARIES), a USAID-funded rural finance project in Afghanistan working to provide legal economic opportunities for people who live in rural communities throughout Afghanistan.
The Sidore Memorial Foundation and the Sidore Series have been established to support campus presentations by speakers on emerging ideas and to enhance faculty efforts to challenge students and the wider community to participate in dialogue around original and sometimes controversial issues facing society.
The lecture is free and open to the public. For more information, call Patrick Dolenc at 603-358-2629.
Related Stories