Gamelan Galak Tika Brings the Music and Dance of Bali to KSC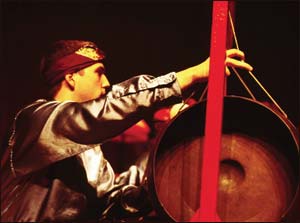 KEENE, N.H., 2/5/07 - Gamelan Galak Tika, New England's first and foremost Balinese ensemble, will bring to Keene State College's Redfern Arts Center on Brickyard Pond an evening of mesmerizing music and dance from the South Seas. The performance, which will be heard Saturday, February 24, at 7:30 p.m., is preceded by a free lecture and demonstration workshop by the ensemble at 5 p.m. Both the workshop and the performance are in the Redfern's Alumni Recital Hall.
Since it's founding in 1993, Gamelan Galak Tika has been studying and performing both traditional and modern Balinese music and dance, as well as developing new, innovative works that cross borders and defy genres. Under the direction of its founder, Evan Ziporyn, the ensemble has not only performed throughout New England, but also internationally, and has collaborated with artists from across the globe, including Chinese Pipa masters, Senegalese drummers, and some of the finest musicians on the American jazz and new music scene. The ensemble has performed in such venues as Carnegie Hall's Zankel Auditorium, the Brooklyn Academy of Music, Lincoln Center, the Boston Museum of Science, Boston's First Night, the Kripalu Yoga Institute, and numerous universities and high schools.
The word gamelan means "to hammer;" the term refers generally to the large percussion orchestras of Java and Bali. The primary instruments are gongs, metallophones, and hand drums, with plus cymbals, vocals, bamboo flutes, and spiked fiddles used as well. Gamelan is the wellspring of all music in Bali, both sacred and secular.
The Balinese people are ardent practitioners of a unique form of Hinduism, and gamelan is necessary for all ritual events and to mark any large social occasion. There are dozens of different types of gamelans in Bali, ranging from large metal orchestras to bamboo ensembles, vocal groups, and groups dedicated to the imitation of frog sounds.
Among the works that will be performed at Keene State are traditional compositions from Bali such as "Beleganjur," a welcoming dance, and "Taruna Jaya," a warrior dance. Also on the program are two compositions composed specifically for Gamelan Galak Tika by Gamelan master Dewa Ketut Alit: "Gringsing" and "pelog/slendro."
Ticket prices are $17 for the general public, $14 for seniors and KSC faculty and staff, $9 for youth ages 17 and younger, and $5 for KSC students with an ID. Tickets maybe purchased by calling the Redfern's box office, 603-358-2168, or by visiting www.keene.edu/racbp.
Tickets for all of the Redfern's Presenting Series events and for performances by the Department of Theatre and Dance and the Department of Music are also available. Patrons can still purchase 20/20 memberships that enable them to receive a 20 percent discount for all Presenting Series performances.
Related Stories