Saint Michael's College Chorale to Sing at Keene State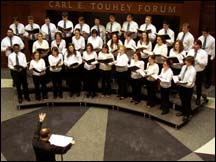 KEENE, N.H., 1/31/07 - Saint Michael's College Chorale will perform on Sunday, February 25, at 4:30 p.m. in the Alumni Recital Hall of the Redfern Arts Center on Brickyard Pond at Keene State College. KSC's Concert Choir will join Saint Michael's Chorale for a portion of the performance. The concert, which is free and open to the public, is part of a tour of Massachusetts and New Hampshire.
"The Chorale's visit to Keene State College is part of our annual weekend jaunt to churches, schools, and colleges around New England, an opportunity to share our music with these communities," said Director Nathaniel G. Lew. "The concert program has three parts: a selection of sacred works from different traditions spanning the ages from the Renaissance to the present, folk songs from around the world, and several of our own state and college songs."
Saint Michael's is a liberal arts residential Catholic college located in the Burlington area of Vermont. The Saint Michael's College Chorale consists of both undergraduates and students from the College's renowned School of International Studies. They have toured within the U.S. and internationally, including a performance in May 2005 at the Basilica of the National Shrine of the Immaculate Conception in Washington, D.C.
Chorale Director Lew was educated at The Juilliard School, Yale University, University of Cambridge, and the University of California-Berkeley. Lew is also an assistant professor of music, teaching courses on music history and music theory. His scholarly work investigates postwar British musical life. He is a member of the 12-voice Vermont-based professional vocal ensemble Counterpoint.
Related Stories