Begnoche and Barnes Join 1,000-Career Point Club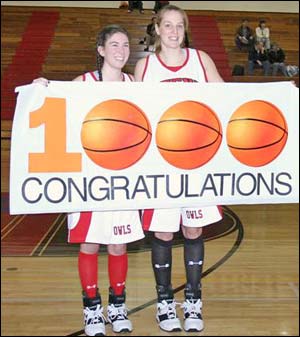 KEENE, N.H., 01/16/07 - The KSC women's basketball 1,000-point club has two new members. Both players, Sarah Begnoche and Bri Barnes, joined the club within a two-week span. Begnoche, a senior forward from Millville, Massachusetts, reached the milestone in the Owls' 93-50 victory over the College of St. Joseph's (Vermont) in the opening round of the KSC Holiday Tournament on December 30.
"All my teammates told me how many points I needed," said Begnoche. "It's a big accomplishment, but I tried to treat it just like any other game."
Barnes, a senior guard from Merrimack, New Hampshire, netted her 1,000th point in a 78-55 victory over Westfield State last Thursday.
"I was a little concerned I wasn't going to get it, but my teammates helped me out," said Barnes. "It feels awesome to join a great group of players who have accomplished the feat in the past."
"I'm very happy for both players," said KSC Coach Keith Boucher. "It's nice to have two 1,000-point scorers who compliment each other so well."
Begnoche and Barnes become the 15th and 16th women's basketball players at Keene State to reach the 1,000-point career mark.
Related Stories