Snappy Dance Comes to Keene State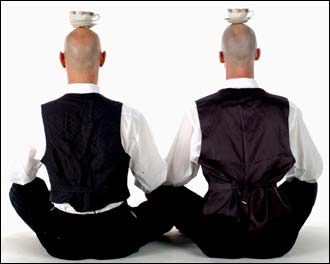 KEENE, N.H., 1/12/07 - The drawings of Edward Gorey will come to life when Snappy Dance Theatre presents The Temperamental Wobble and works from their repertory at Keene State College's Redfern Arts Center on Brickyard Pond on Thursday, February 1, 2007, at 7:30 p.m. Tickets for the performance are available at the Redfern's box office, by calling 603-358-2168, or by visiting www.keene.edu/racbp.
New York Times dance critic Jennifer Dunning has described a Snappy performance as "… handsomely produced … a sly and stylish delight." They create an edgy, yet accessible style of dance for all ages and backgrounds. Incorporating athletics, gymnastics, circus skills, martial arts, vocal work, theatre, and dance into a fun-filled evening of meaningful entertainment, Snappy takes the audience on an emotional journey that is humorous, thought provoking, and filled with surprises.
The Temperamental Wobble is inspired by Gorey's illustrations and features a hauntingly evocative score by Michael Rodach. Choreographer and Snappy's artistic director Martha Mason does more than just give movement to Gore's images. Her choreography embraces the artist's Victorian world of darkness and shadow. All six dancers, made up with Gorey's traditional hollow eyes, evoke the artist's macabre and terrifying visions with precision. T. J. Medrek of the Boston Herald described Temperamental Wobble, when it premiered at the Bank of America Celebrity Series in 2004, as "some of the most powerful and, yes, chilling visual poetry I've seen."
Other works in the program are Movement in D'Flat, which evokes visions of the classic TV series, Twilight Zone. Tango Tangle is a comic twist on a traditional tango duet. Mirabile Dictu develops as a slow-motion poetic reverie with one or the other dancer lying on her back supporting her partner on outstretched arms and legs. The evening will conclude with Snappy's latest work, Lumen, a collaboration between Snappy and lighting designer Joseph Levendusky, which comically explores the interplay between light and bodies.
The Redfern Arts Center performance is made possible through funding provided in part by the New England Foundation for the Arts (NEFA) as part of the National Endowment for the Arts (NEA) Regional Touring Program. NEFA receives major support from NEA with additional support from state arts agencies in New England.
Ticket prices are $24 and $21 for the general public, $22 and $19 for seniors and KSC faculty and staff, $13 and $11 for youth ages 17 and younger, and $5 for KSC students with an ID. Tickets for all of the Redfern's Presenting Series events and for performances by the Department Theatre Arts and Dance are also available. Patrons can still purchase 20/20 memberships that enable them to receive a 20 percent discount for all Presenting Series performances.
Related Stories