Begnoche Reaches 1000-Point Career Milestone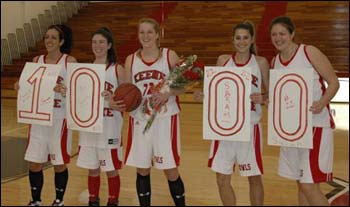 KEENE, N.H., 1/3/06 - The Keene State College women's basketball 1,000-point club has a new member. Sarah Begnoche, a senior forward from Millville, Massachusetts, joined the club when she reached the milestone in the Owls' 93-50 victory over the College of St. Joseph's (Vt.) in the opening round of the KSC Holiday Tournament on Saturday.
Begnoche, who finished the game with 15 points and seven rebounds, knew she was closing in on the milestone. "All my teammates told me how many points I needed," said Begnoche. "It's a big accomplishment, but I tried to treat it just like any other game."
"Sarah is a great athlete with tremendous tools," said KSC Coach Keith Boucher. "This milestone came because she has a very good work ethic, and she comes to play every day."
Begnoche becomes the 15th women's basketball player at Keene State to reach the 1,000-point career mark.
Related Stories