KSC Science Center Wins Award and Praise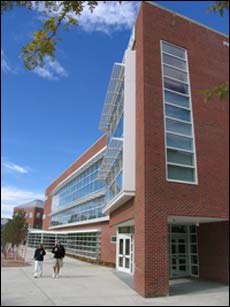 KEENE, N.H. 12/23/05 - Gilbane Building Co., construction manager for the Science Center at Keene State College, has received two awards in the annual Excellence in Construction competition sponsored by the New Hampshire/Vermont Chapter of Associated Builders and Contractors. Gilbane was one of 15 contractors who received Awards of Excellence. The company was further singled out for the Excellence in Construction President's Award
The $23-million project, completed in 2004, transformed an aging, generic brick building into a bright and vibrant center for modern science, complete with distance-learning technology and state-of-the-art labs. The ABC award noted that the renovation for the existing 56,000-square-foot building, and the construction of the 38,000-square-foot addition, was completed ahead of schedule and on budget.
The Science Center has also appeared recently in two national journals. An article in The Chronicle of Higher Education on the trend toward renovating campus "boomer-buildings" - brick and concrete buildings with narrow windows that were quickly constructed to accommodate increased enrollments in the 1960's - leads with the recent construction at Keene State. And an article in the July issue of American School and University, which looks at the "big business" of renovating the nation's campuses, features KSC's Science Center as a sidebar article illustrating the advantages of working with existing buildings.
"Successful construction is a collaborative effort," says Jay Kahn, KSC vice president for finance and planning. "The faculty, design team, and students can all feel that they have played a part in this project."
The articles emphasize how the Science Center is a good example of how creative renovation and new construction can help colleges meet modern teaching needs and provide energy saving facilities. The school saved time and $5.5 million in construction costs by working with the existing structure. The limitations of the old building - inadequate space for modern ductwork and large, old fashioned lecture halls unsuited to hands-on learning and student research - seem to have inspired the architects to creatively adapt to the challenges. The new glass-walled addition houses modern laboratories (which need extensive ventilation) and provides comfortable "conversation alcoves" in the hallways. The lecture halls were converted into smaller classrooms, and an open-air courtyard created by the new addition serves as an outdoor classroom with plants and boulders that reflect the biological and geological landscape of the region.
Related Stories