LaDuke Addresses Native American and Environmental Issues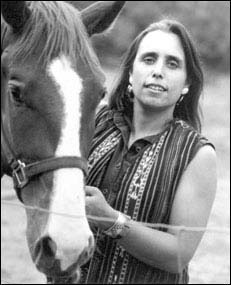 KEENE, N.H. 11/22/05 - "Social Justice, Racism, and the Environmental Movement" will be the topic when noted Native American writer and advocate Winona LaDuke speaks Wednesday, Dec. 7, at 7 p.m. at Keene State College. The event, free and open to the public, takes place in the Mabel Brown Room of KSC's Student Center.
LaDuke is a member of the Anishinaabeg nation, whose land encompasses the headwaters of the Mississippi River in Minnesota. (The Anishinaabeg are called Ojibways in Canada and Chippewas in the United States.) A graduate of Harvard University and Antioch College, she was raised off-reservation but returned to lead an effort to reclaim the Anishinaabeg aboriginal territory in the center of the continent. There, she founded the White Earth Land Recovery Project, which works to buy back tribal lands. As an advocate for strengthening traditional culture and traditional economic ventures, she has helped to support the harvest and marketing of wild rice.
In 1994, LaDuke was named by Time magazine as one of America's 50 most promising leaders under 40 years of age; she has also been awarded the Thomas Merton Award, the Ann Bancroft Award, the 1997 Ms. Woman of the Year Award, the Global Green Award, the Slow Food Award, and many other honors.
LaDuke is the author of Last Standing Woman (fiction), All Our Relations: Native Struggles for Land and Life, Recovering the Sacred (both nonfiction), and In the Sugarbush (children's nonfiction). She has appeared in documentary and feature films and maintains an active schedule of lectures and appearances. As the 1996 and 2000 candidate for vice president on the Green Party ticket, she was the first Native American to run for national office. She is visiting Keene State as part of a longer lecture tour through the Northeast.
LaDuke's appearance is sponsored by the World Education Links Graduate Program for Teachers, the KSC Honors Council, the KSC Women's Studies Council, and the KSC Diversity Commission.
For more information, contact Judy Reed, 603-358-2821.
Related Stories