Adams Earns All-America Honors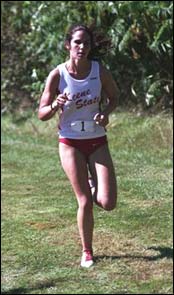 DELAWARE, OHIO 11/19/05 - Keene State College's Jennifer Adams raced to All- America honors at the NCAA Division III Cross Country championships in Delaware, Ohio on Saturday. The sophomore from Saratoga Springs, N.Y., finished 20th on the 6,000-meter course with a time of 22:45. Adams is the third KSC women's runner to earn All-America cross country honors. She is the first KSC women's All-American since Mary Proulx won the third of her three honors in 2002.
"Jennifer ran a very gutsy race," said Thomas. "She wasn't feeling her best, but ran strong enough to get the job done. Unlike last week when she ran nice and easy at the regionals, she had to work hard the entire race today. "She was tired, but happy when she hit the finish line."
Making its ninth straight trip to the championship, the Keene State men's team didn't have a good day on the trails. They finished a disappointing 23rd in the 24 team field.
"I really don't have a reason why the men ran so poorly," said a dejected KSC Coach Peter Thomas. "They tried hard, but just didn't have anything to show for their effort. It just wasn't their day."
One of four seniors in KSC's pack, Ryan Gough was the first Owl runner to the finish line. The Billerica, Mass., native placed 40th (26:37) on the 8,000-meter course, missing All-America honors by five spots. Joe Hegarty (Springfield, Mass.) was in 110th place with a time of 27:19 and Matt Haley (Middleton, Mass.) was 161st at 27:51. Rounding out the KSC runners were Pat Ard (Kingston, N.H.) (194th/28:27), Joseph Reynolds (Bryant Pond, Me.) (204th/28:58) and freshman Brock Welch (Merrimack, N.H.) (208th/29:13). Kevin Kelleher (Rocky, Hill, Conn.) had to pull out of the race with an Achilles injury.
Keene State finished with 520 points, its worst showing at the Division III meet. Wisconsin-Lacrosse won its third NCAA Championship with 94 points while Geneseo-State edged Williams for the women's title.
Finishing second at the championships in 1999 and 2000, the KSC men's team hasn't done well on the national stage in recent years. After placing eight in 2003, they dropped to 20th last year.
Related Stories