Owls Capture ECAC Championship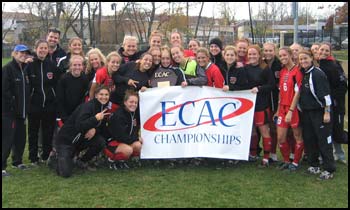 Worcester, MA 11/13/05 - Fourth seed Keene State College women's soccer team captured its first Division III ECAC New England Championship by edging host and third seed Clark University, 2-1 in Worcester, Mass. on Sunday.
KSC (14-6-3), making its sixth appearance in the Division III tournament, advanced to the finals for only the second time. The Owls reached the championship game in 2001, losing in overtime to Wellesley College (3-2). KSC captured three ECAC titles as a Division II member (1986, 1987, 1993). Clark, who defeated Keene State 1-0 earlier this season, concludes its season at 12-8-1. The Cougars were making their first appearance in the ECAC finals.
"It was a battle," said KSC Coach Denise Lyons. "We dominated in the first half, and our goalie, Sarah Campbell made some unbelievable saves in the second half to keep us in the game."
Keene State took control early scoring three minutes into the game on a goal by junior Tara Wagner (Avon, Conn.) on an assist by Courtney Gately (Canton, Mass). The Owls scored 18 minutes later when senior Missy Mengual (East Berlin, CT) headed the ball in off a Sarah Miller (Walpole, N.H.) corner kick for Keene's second tally of the game.
Clark started to apply pressure in the final ten minutes of the first half, but were held scoreless after 45 minutes.
Trailing 2-0 at the half, Clark came out firing in the second stanza out- shooting KSC 13-4. Senior Jess Blatt (Holden, MA) scored her second goal of the ECAC tournament, a blast from outside the 18-yard box with 19 minutes to play.
The Cougars continued to pressure Keene's senior goalkeeper Sarah Campbell (Auburn, MA), who made two key saves, including one on Blatt just before the goal and another coming off her line with just under four minutes to play. Campbell, the tournament's Most Valuable Player, made 11 saves in her last collegiate game.
"It was a great way to end the season," said Lyons. "We struggled a bit early on with the weather and the flooding, but we were finally able to come together as a team."
"We put our best effort forward near the end, and went out like champions," she added. "It's great for the seniors to go out in the record books."
Related Stories