KSC Guitar Concert Showcases Bach and Andean Music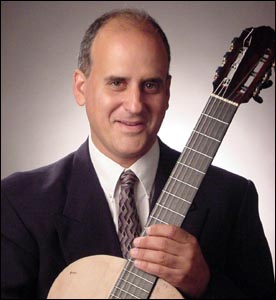 KEENE, N.H. 11/4/05 - Bach-influenced music along with Andean tunes will be featured in a concert by the Keene State College Guitar Orchestra and Latin American Ensemble on Wednesday, Nov. 16, at 7:30 p.m. in the Alumni Recital Hall of the Redfern Arts Center on Brickyard Pond. Tickets are $7 for the general public and $5 for KSC students, senior citizens, and youth age 17 and younger. Call the box office at 603-358-2168.
José Lezcano, professor of music, directs the nine-member KSC Guitar Orchestra and the 27 students in the Latin American Ensemble. For the Guitar Orchestra he chose a "Bach's Shadow" program of works that imitate J.S. Bach's contrapuntal sound heard in his Prelude and Fugue in D major, which begins the program. Bach's counterpoint melody is echoed in Johannes Brahms's Andante Moderato from String Sextet Op. 18, No. 1, a well-known passacaglia movement with ground bass variations arranged for guitars.
Another Bach-influenced work is Canon for Five Guitars by Francis Kleynjans, a French composer and guitarist, whose Canon uses Baroque tradition in a New Age style. Another piece imitative of Bach's rhythms is Toru Takemitsu's Bad Boy film score. Takemitsu, Japan's best-known composer, grafted Western compositional practice onto Japanese musical aesthetics. The Bad Boy score at times sounds like a Puccini opera, explains Lezcano. The program also includes El Diblo Suelto, a well-known Venezuelan Joropo, a fast dance in 3/4 time.
The KSC Latin American Ensemble plays four Andean tunes from Peru, Ecuador, and Bolivia on panpipes, charangos, guitars, violin, and flutes. The Ensemble also performs two tangos by Astor Piazzolla, which feature KSC students Claire Woodcock, violin, Kathryn McDaniel and Haley Stevenson, flutes, and Lezcano on guitar.
Lezcano, a Cuban-born guitarist, composer, and folklorist, teaches music theory and Latin American music at Keene State. His programs of traditional guitar repertory and Andean music have taken him from Carnegie Recital Hall to major festivals in Quito, Lima, and Rio de Janeiro. Last year he toured Hamburg, Cologne, and Bonn with flutists from South America performing works by himself, Piazzolla, and other Latin composers. He has received numerous national prizes and awards, including in 2003 a New Hampshire State Arts Council Individual Artist Fellowship and Keene State's Award for Distinction in Research and Scholarship.
Related Stories