Dorian Wind Quinet at Brickyard Pond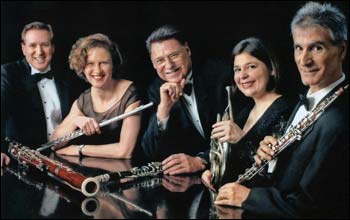 KEENE, N.H. 11/01/05 - Hailed by the New York Times as "One of chamber music's most sparkling and eloquent ensembles," the Dorian Wind Quintet will make its area debut in a recital featuring pianist George Loring playing Francis Poulenc's Sextet for Winds and Piano. The performance will be held at Keene State College's Redfern Arts Center on Brickyard Pond, Friday, Nov. 18, at 7:30 p.m.
The Dorian Wind Quintet is recognized worldwide by professional musicians and audiences alike for its polished and passionate performances. Audiences consistently take with them memories of compelling, energetic and dramatic music-making.
Loring, artist-in-residence at Keene State, is no stranger to performing with visiting guest artists at Brickyard Pond, having played Mozart's Concerto for Piano and Orchestra in Eb, K 449 with the Jupiter Symphony in the spring of 2000. Besides a distinguished career as a solo and chamber artist, he has been a concerto soloist with the New Hampshire Philharmonic, the Lakes Region Symphony orchestra, and the Monadnock Chorus at Carnegie Hall.
In addition to the Sextet for Winds and Piano, the Dorian will play three organ works by Johann Sebastian Bach, "Ach bleib bei uns," "Herr Jesu Christ," and "Christ lag in Todesbanden," and the Fugue in G Minor. The second half of the program will find the Dorian playing Diversions for Wind Quintet, Op. 10 by Lee Hoiby, "La Nouvelle Orleans" by Lalo Schifrin, and "Aires Tropicales" by Pacquito d'Rivera.
Since its formation at Tanglewood in 1961, the Dorian Wind Quintet has performed repertoire ranging from the Baroque to Pulitzer Prize-winning commissions in the world's most renowned concert halls. The Quintet has literally been around the world - concertizing in 49 of the 50 states and Canada, touring Europe 18 times, and playing in the Middle Ease, India, Africa and Asia. The Dorian made history in 1981 as the first wind quintet to appear at Carnegie Hall.
The Dorian Wind Quintet collaborates often with well-known artists, including Phyllis Bryn-Julson, Jean Casadesus, Phyllis Curtain, Lukas Foss, Claude Frank, Lee Hoiby, Lorin Hollander, Ruth Laredo, Jean-Pierre Rampal, James Tocco, and Beveridge Webster. The Quintet has appeared at numerous festivals including the Stravinsky Festival at Lincoln Center, the International Festival in Warsaw, the Caramoor International Music Festival in New York, the Newberry Spring Festival in Britain, and the Stratford Festival in Ontario, Canada.
Tickets are available through the Brickyard Pond box office, 603-358-2168, or on the web at www.keene.edu/racbp. They are $16 for the general public, $13 for seniors and KSC faculty and staff, $8 for youth 17 or younger, and $5 for KSC Students with ID.
Related Stories