Palestinian Children to Dance Monday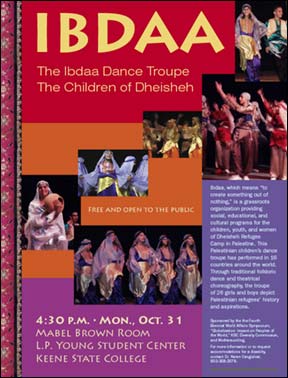 Keene, N.H. 10/26/05 - The Palestinian children's dance troupe Ibdaa will visit Keene State on Monday, October 31, for a 4:30 performance in the Mabel Brown Room of the Student Center. Their appearance is in conjunction with the KSC symposium on globalization symposium, which begins later in the week. Admission is free.
Ibdaa is a grassroots organization providing social, educational, and cultural programs for the children, youth, and women of Dheisheh refugee camp in Palestine. This Palestinian children's dance troupe has performed in 16 countries around the world. Through traditional folk dance and theatrical choreography, the troupe of 26 girls and boys depicts Palestinian refugees' history and aspirations.
Related Stories