N.H. Emergency Personnel Use New KSC/UNH Public Safety Management System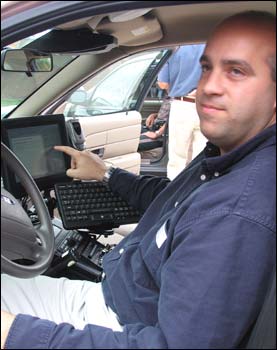 KEENE, N.H. 10/13/05 - Last October, U.S. Sen. Judd Gregg (R-N.H.) secured a $2 million appropriation from the U.S. Department of Justice for Keene State College and the University of New Hampshire to develop a public safety management system (PSMP) for New Hampshire. The system will help police and fire personnel know whether the site of an emergency contains dangerous hazardous materials.
Much has happened during the first year of the project, says Melinda Treadwell, associate professor of Technology, Design and Safety at KSC, who is co-leading the project with Patrick Messer, associate director of the UNH Research Computing Center. According to Treadwell, who spoke at the KSC/UNH Public Safety Management Conference held last Friday at KSC, emergency personnel from New Hampshire cities are already testing a prototype of the public safety management system.
The public safety management system is based on the UNH Chemical Environmental Management System (UNHCEMS), a web-based system developed by the UNH Research Computing Center that enables educational institutions to track hazardous materials, including chemicals, radiological elements, and biological agents. According to Messer, four pilot sites - Keene State, Plymouth State University, Keene High School, and Nashua High Schools (North and South) - participated this year.
The first year in review:
Starting in July 2004, staff and student interns from KSC's Technology, Design and Safety Studies department developed inventories of all hazardous materials stored in labs and workshops at the four educational institutions. More than 15,000 chemicals were inventoried.
The inventories were integrated with the UNHCEMS software to create real-time, web-based systems to track each institution's hazardous materials. The systems enable emergency personnel to quickly view chemical hazards and signage by location, and view evacuation protocols and response options, while on their way to emergencies. The systems, which were designed to run on the software used in fire trucks and police cruisers, will be updated each time a new material is stored at an institution. Emergency service personnel from Keene, Nashua, Plymouth, and Holderness fire and police departments participated in the project.
The UNH Research Computing Center continued to refine the UNHCEMS system, enabling the schools to run the software locally and enabling emergency vehicles responding to a call to share information via a wireless network.
Starting in May 2005, KSC safety studies faculty members began developing a training program to instruct emergency personnel on evaluating and handling contamination sites. The curriculum was taught in workshops and seminars throughout the summer.
Funding ($295,992) was recently approved by the U.S. Dept. of Justice for year two of the project. According to Treadwell, the PSMP will be expanded to develop a "community-wide emergency preparedness" tool for the City of Keene. "We believe the UNHCEMS system can be used as a ground-up tool for community- wide emergency planning," she said. Keene schools and private companies in the city will be invited to participate in the project. The goal, said Treadwell, will be to have one set of data of all potentially hazardous materials in the city available for use by fire and police personnel. KSC's safety studies program and its Office of Continuing Education will provide training for all participants.
UNH will continue to refine and enhance the capabilities of the UNHCEMS software over the coming year, says Messer. "UNH will make further refinements to the UNHCEMS application to simplify its use by high schools and colleges," he explains. "We plan to integrate UNHCEMS into Keene State's Regional Emergency Public Health Certificate Program, which is primarily directed at law enforcement and emergency personnel. We also intend further refining the emergency personnel software based on feedback from the pilot participants."
Treadwell said she is pleased with the progress made in the first year of the project.
"We are on or ahead of schedule for every part of the project. We've installed some amazing technology across the state, made inventories of so many chemicals, and completed a number of training programs, and it's all worked."
Related Stories