Weston Playhouse Theatre Company Presents "Cyrano"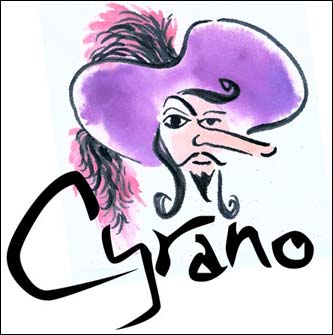 KEENE, N.H. 10/6/05 - Cyrano de Bergerac was a swashbuckling swordsman, poet, musician, and philosopher. You can see for yourself why he is the hero of one of the world's most beloved plays when the Weston Playhouse Theatre Company brings Jo Roets' acclaimed adaptation of Edmund Rostand's Cyrano de Bergerac to Keene's Colonial Theatre October 25 at 7:30 p.m. with a 9:30 a.m. school performance October 26. The performances are co-presented by the Colonial and Keene State College's Redfern Arts Center on Brickyard Pond. For tickets and information, call the Colonial box office 603-352-2033 or on the web at www.thecolonial.org.
The story finds Cyrano in love with Roxane, but his larger-than-life nose prevents him from telling her. When Roxane falls in love with a handsome cadet, Cyrano helps his tongue-tied rival win her hand, all the while longing for a love he cannot have. Roets takes a fresh look at Rostand's heart-felt classic in this lively 90-minute adaptation, with three actors playing all the roles.
Rostand's fame was insured with the 1897 Paris debut of Cyrano de Bergerac, and the play has since become one of the world's most produced dramas. It has been a star vehicle for, among others, Jose Ferrer (who won the Academy Award for the 1950 film), Derek Jacobi (in a 1985 Royal Shakespeare Company production that played on Broadway), Steve Martin (in the 1987 modern dress film, Roxane) and Gerard Depardieu (in a 1990 French language film).
Artistic director of the renowned Flemish theatre company Laika, adaptor Roets is known for reducing classical stories to their essence in a playful manner. Hailed by the critics as "achingly romantic and enormously inventive" and "a rousing, light-hearted, family-oriented show," his Cyrano has been seen internationally, Off Broadway, and in major theatres from Seattle to Philadelphia and from Milwaukee to Honolulu.
At the helm will be director Stephanie Gilman, whose work, seen often at New York's Ohio Theatre and HERE Arts Center, has won the New York International Fringe Festival Award for Overall Excellence. Co-founder and Co-Artistic Director of the theatrical ensemble Collision Theory, Gilman is known for her highly physical, comically inspired productions. Admittedly drawn to the epic nature of classics, she admires the "playful theatricality" of Roets' Cyrano.
Andrew McGinn will play the title role of Cyrano. A graduate of Juilliard, his credits include Tom Stoppard's The Invention of Love, on Broadway, and various classics with The Acting Company, the New York Shakespeare Festival, and the Old Globe Theatre. Amanda Cobb will play Roxanne and the Duenna. A graduate of the Yale School of Drama, her credits include the title role in Sarah Ruhl's Eurydice at the Williamstown Theatre Festival, and new plays at Yale Rep and Long Wharf Theater. Noel Velez, seen in Weston's 2004 tour of David Copperfield, will play Christian, De Guiche and others. Trained at the Alabama Shakespeare Festival where his credits include Romeo in Romeo and Juliet, he has been seen in A Christmas Carol at the Guthrie and The School for Wives at PlayMakers Rep.
Director Gilman has set Cyrano in a "ragtag carnival" world designed by Wilson Chin. Chin will be joined by costume designer Daniel Urlie, lighting designer S. Ryan Schmidt and composer/sound designer Daniel Baker.
The Colonial performances are made possible by a sponsorship from the Citizens Bank Foundation. Additional funding was provided by the New England Foundation for the Arts Touring Artists Fund with additional support from the National Endowment for the Arts and the six New England Arts Agencies.
Related Stories