Lezcano Plays Guitar Music From The Americas at KSC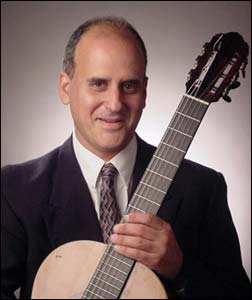 KEENE, N.H. 10/6/05 - Keene State College Professor of Music José Lezcano will celebrate the release of his new CD "Latin Images" with a KSC Faculty Artists' Recital of music from the Americas on Wednesday, Oct. 19, at 7:30 p.m. in the Alumni Recital Hall of the Redfern Arts Center on Brickyard Pond at Keene State College. Tickets are $7 for the general public and $5 for KSC students, senior citizens, and youth age 17 or younger. Call the box office at 603-358-2168.
Lezcano, a guitarist and composer, will be joined by KSC faculty members Joseph Darby, viola; Marcia Lehninger, violin, Robin Matathias, flute; Elizabeth Blood, piano; Don Baldini, bass; and guest cellist Sabine Rhyne from the Brattleboro School of Music. Apple Hill Playing for Peace Scholarship students Reem Abu Rahmeh from Jordan and Ealain McMullin from Ireland, KSC music major Claire Woodcock, violin, and Emily Gelb, a student at High Mowing School in Wilton, N.H., also will perform.
"The Mostly Music from the Americas" program will include Lezcano's Poemas Concertantes for flute, guitar, and strings and three guitar solos from his new CD. Vivaldi's Concerto in C for guitar and strings and Castelnuovo- Tedesco's Fantasie for guitar and piano will be heard. Three Venezuelan waltzes by Antonio Lauro, "Evocacion," "Zamba," and "Chacarera" from Suite del Recuerdo by Jose Luis Merlin, Lou Harrison's Serenade Sonata in Ishartum, and La Catedral by Agustin Barrios will complete the evening.
Lezcano's "Latin Images" CD contains music from Spain and Latin America, including his original composition Antonia Zarate from Three Goya Portraits. This is Lezcano's second CD. He, Bonnie Insull, and Matthew Shubin released the CD "Passports" to critical acclaim in 1999.
Lezcano, who has been invited to play at the Festival of Contemporary Music in Calif, Columbia, the week of Nov. 4-12, has played Carnegie Recital Hall and at festivals in Rio, Lima, Quito, the Czech Republic, Germany, and locally with the Granite State Symphony and Keene Chamber Orchestra. In March 2004, he toured Hamburg, Cologne, and Bonn, performing with flutists from South America in works by himself, Piazzolla, and other Latin composers. His Guitar Concerto was selected by North-South Consonance for a New York City premiere in June 2005, with Lezcano as soloist.
Located off Wyman Way, the Redfern Arts Center is accessible to people with disabilities. To request accommodations for a disability, please call the box office, 603-358-2168.
Related Stories