Keene State Stages an Evening of Theatre Spoofs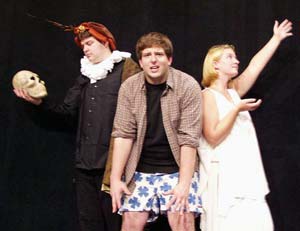 KEENE, N.H. 9/28/05 - Keene State Theatre presents Send Ups and Put Ons, an evening of five theatre spoofs directed by Daniel Patterson at 7:30 p.m. Tuesday to Saturday, Oct. 11-15, and a matinee at 2 p.m. Saturday, Oct. 15, in the Wright Theatre of the Redfern Arts Center on Brickyard Pond. Tickets are $7 for the general public and $5 for KSC students, senior citizens, and youth 17 or younger. Call the box office at 603-358-2168.
An ensemble of nine actors play all 25 roles in excerpts from: The Compleat Works of Wllm Shkspr (Abridged) by Adam Long, Daniel Singer, and Jess Winfield; The Actor's Nightmare by Christopher Durang; Last Call for Breakfast by Michael Green, a spoof of Samuel Beckett; Medea, a spoof of the Greek tragedy by Durang; and For Whom the Southern Belle Tolls, Durang's spoof of The Glass Menagerie.
Patterson, associate professor of theatre, directs the evening of theatre parodies that lampoons some of theatre's greatest works.
There's a parody of Shakespeare's classic tragedy Hamlet, which would be a challenge for most actors, but this 45-minute spoof ends with three actors completing a complicated scene backwards in one minute.
"Comedy is harder to do than serious theatre," explained Patterson. "It requires an innate sense of timing. I found some good comic talent in these young actors."
The classic Greek tragedy Medea comes under fire in a 15-minute spoof of a woman wronged by her cheating husband with a chorus to lament this tale of revenge.
Last Call for Breakfast is a 15-minute spoof of absurdist theatre as epitomized by Samuel Beckett, one of the great names of the genre and best known for Waiting for Godot.
The evening opens with The Actor's Nightmare, a 30-minute play that deals with every actor's fear of forgetting lines and takes it one step further with an unlucky trouper forgetting he's even on stage.
For Whom the Southern Belle Tolls ends the evening with a humorous twist of The Glass Menagerie, Tennessee Williams's sad look at the family life of a shy young woman.
"This is an affectionate parody because the characters are being lampooned but they still have the same pathos," explains Patterson. "This by far is the trickiest play for the students because they can't fall back on slapstick to make it work."
New Hampshire residents in Send Ups and Put Ons are Katelin Dickson from Bow, Kim Dupuis of Keene (a KSC theatre faculty member), Carla Kent from Swanzey, Phil Officer from Hanover, Shanna Sartori from Wolfeboro, and Joshua Yeaton from Strafford. Other troupers are Matt Braunsdorf from Sharon, Conn., Loring Griggs from Westerly, R.I., and Erica Martineau from Fryeburg, Maine. Glenda Matos from Worcester, Mass., is the stage manager.
Related Stories