Ricardo Cobo Plays Guitar at Keene State College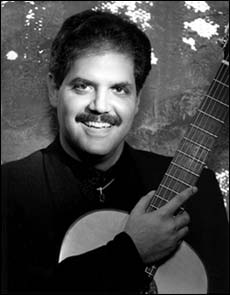 KEENE, N.H. 9/21/05 - Ricardo Cobo, a virtuoso guitarist from Colombia, will perform at a Guest Artist's Recital at 7:30 p.m. on Friday, Sept. 30, in the Alumni Recital Hall of the Redfern Arts Center on Brickyard Pond at Keene State College. Tickets are $7 for the general public and $5 for KSC students, senior citizens, and youth age 17 or younger. Call the box office at 603-358-2168.
Cobo, recognized as one of the world's supreme virtuosi of the new classic guitar generation, will present a half-hour talk on Latin American guitar music at 3 p.m. Thursday, Sept. 29, followed by a masterclass for guitar students in the Alumni Recital Hall. The talk and masterclass are free and open to the public.
Cobo has won an unprecedented array of gold medals in major international competitions. His versatility can be heard in his award-winning solo recordings of classical and children's music, his orchestral and crossover recordings, and in hundreds of credits for commercial releases worldwide.
"Cobo's performance was characterized by generosity of spirit, to say nothing of knockout virtuosity. His playing was extrovert, lyrical, rhythmically alive," according to a review in the San Antonio Express.
His diverse and innovative programming ranges from solo concerti with orchestra to historical chamber settings, as well as Tango and Flamenco dance ensembles and Latin and world music concerts.
He gave his professional debut with the Orquesta Filarmonica de Bogota at age 16 for a nationwide telecast audience of over nine million. As a college student he made his astonishing debut to American audiences as the first Hispanic to win consecutive prizes at the Guitar Foundation of America International competition. His busy touring schedule has taken him to New York's Carnegie Hall and Alice Tully Hall and to halls in Los Angeles, Korea, Madrid, and his native Colombia.
Located off Wyman Way, the Redfern Arts Center is accessible to people with disabilities. To request accommodations for a disability, please call the box office, 603-358-2168.
Related Stories