Professor Tom Bassarear Recognized With KSC Community Services Award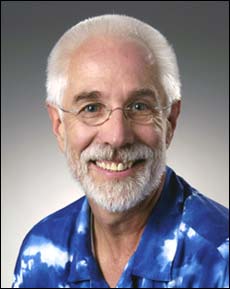 KEENE, N.H. 9/23/05 - Tom Bassarear, professor of education at Keene State College, will receive the KSC Community Service Award at next month's Fall Honors Convocation ceremony. The award acknowledges a KSC staff or faculty member's community service and that individual's role in enhancing the quality of life within his or her home community.
Among his many contributions to the Keene community, Bassarear founded the Monadnock Mindfulness Practice Center, has given numerous workshops for adult literacy tutors in Keene and throughout the state, coached Bambino baseball, serves as treasurer of the Keene High School football boosters club, and established a local support group for parents of teenagers. At the request of parents at Fuller Elementary School in Keene, Bassarear developed and taught a mathematics enrichment program called "Math Beyond the Dots" for fifth graders. The program has since grown to encompass all the elementary schools in Keene. The program is now taught by Keene State students, recruited and supervised by Bassarear. Since 1998, Bassarear has volunteered for Home Healthcare, Hospice and Community Services, providing end-of-life care for patients and their families.
Related Stories