Geographers Publish Vermont Atlas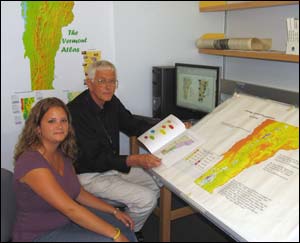 Keene, N.H. 9/20/05 - The Keene State College geographers are at it again. Last year, Klaus Bayr, professor of geography, and students from his cartography classes designed and published the New Hampshire Atlas, a reference book for fourth grade school children. In July, Klaus Bayr and his students published the Vermont Atlas, which is also intended for use by fourth graders and is in line with Vermont curriculum standards. The group is now at work on a Massachusetts atlas (due this December) and a Rhode Island version (expected in the spring).
Professor Bayr enlisted the help of several students from his cartography classes, including principal cartographer, senior Stephanie Derrick, on the project. Together, they drew more than 100 maps for the atlas, using computer illustration programs. About 25 maps are included in the 24-page atlas. As with the New Hampshire version, the Vermont Atlas was reviewed by school children, this time from Rutland Intermediate School.
The Vermont Atlas and the New Hampshire Atlas cost $7 each and are available from the N.H. Geographic Alliance at Keene State by calling 358-2508 or e-mailing arydant@keene.edu.
Related Stories